Allied Motion (AMOT) Stock: Market Continues To Love The Growth Curve
Intro
If we pull up a long-term chart of Allied Motion Technologies Inc. (NASDAQ:AMOT), we see that shares continue to go from strength to strength as we have a clear pattern of higher highs and higher lows. The stock's 10-month moving average has mostly remained above its corresponding 40-month average since 2010 and now we have another clear long-term buy signal through Allied Motion's MACD indicator. The one caveat however with this signal is that a pretty sizable bearish divergence presented itself in this very same indicator last year. This means it is still unknown at this point whether the 5-month decline at the beginning of 2023 was enough to justify this bearish divergence.
On a positive note, all of the recent monthly MACD buy signals on AMOT's technical chart resulted in strong trending moves thereafter. In fact, the MACD buy signals never took place when the stock was in oversold conditions but yet still yielded strong rallies. So the question is do we buy this buy signal once more or is there more than meets the eye here in Allied Motion Technologies? The balance sheet as well as AMOT's profitability trends can give us some clues about this.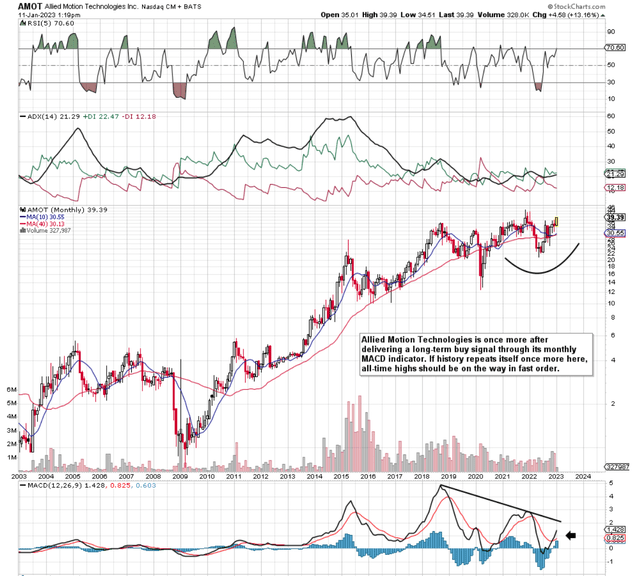 Profitability
What has been really impressive about AMOT in recent times has been its ability to keep on growing its margins despite the acquisitions the company has taken on board. Through the development of the One Allied Global platform, revenues continue to grow organically and margins are receiving a nice bump from those various acquisitions. In fact, sales grew by 30% in the third quarter with Aerospace & Defense revenues to the fore (159% growth rate). Adjusted net profit of $0.60 per share increased by over 20% over the same period of 12 months prior. These excellent results are all stemming from the company's sound gross margin print (32.2% in Q3) which increased by 130 basis points compared to Q3 last year. Suffice it to say, in a very difficult market of supply chain headwinds & higher costs, AMOT has found a way (through higher sales, higher pricing & buying companies with strong margins) to keep the income statement ticking over nicely. This trend bodes really well for future growth.

Now, although some detractors may state that AMOT's return on equity (8%+) and net profit margin (3%+) are not high enough from a profitability standpoint, it is the company's growth path that the market is most attracted by. As we see below, earnings are expected to grow by 47% next year and strong double-digit percentages thereafter. Therefore, the above-mentioned profitability metrics as well as the P/S & P/E ratios (from a forward standpoint) would come in far more attractive compared to their present numbers.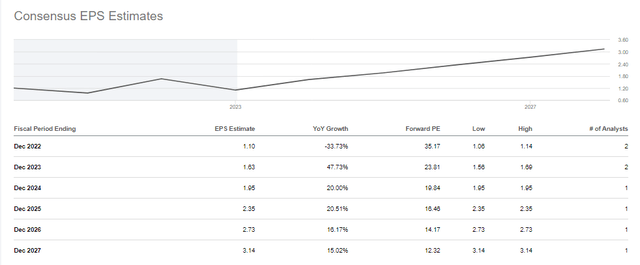 Balance Sheet
Suffice it to say, there are very strong arguments to remain long this stock but we would only do such with a trailing stop for the following reason. Recent acquisitions for the most part have been fueled by debt with the company's long-term debt hitting $222 million at the end of Q3. Suffice it to say, although the company reported excellent comparables like EBIT, top-line sales, etc., in the third quarter recently, Allied Motion's debt-to-equity ratio rose from 0.67 in Q3 last year to 1.10 at the end of this third quarter this year. Moreover, the interest coverage ratio went from 10.9 in Q3 last year to a present 4.73 in Allied Motion's most recent quarter.
Now if Allied Motion manages to meet its earnings and cash flow projections, managing the balance sheet (by ensuring leverage ratios remain in check) will not be difficult. The company's M&A strategy for example has added close to $100 million of high-margin sales already which is a feat in itself. Leverage though is a double-edged sword, and considering the number of intangibles & goodwill on the balance sheet from acquisitions, a long-term buy and hold may not be the right strategy at this moment in time. We state this because based on the company's trailing net profit numbers, for example, it would take 15+ years to pay off the debt load with its earnings.
Conclusion
Therefore, to sum up, although Allied Motion looks set for another bull run in the upcoming months, the company's debt-to-equity ratio continues to increase on the back of successful acquisitions. We recommend a trailing stop strategy here in the event of Allied Motion's growth expectations not materializing going forward. We look forward to continued coverage.