Applied Digital Stock: Still Too Early To Tell (NASDAQ:APLD)
Applied Digital Corporation (NASDAQ:APLD) is a name that I've covered in the past. The company's stock has been a wild ride having gone from penny stock to $34 back down to penny stock in a span of less than 2 years. That said, it does appear as though Applied Digital shares could now be finding some footing here having taken out the 200 day moving average.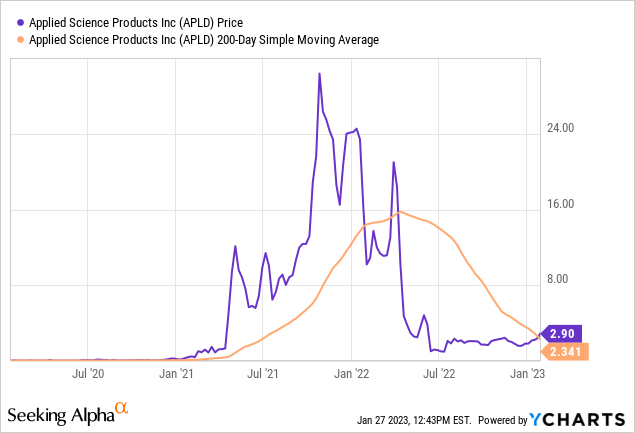 Applied Digital is a Bitcoin (BTC-USD) mining business that serves as a vendor for companies that take the hosted approach rather than a vertically integrated one. One of Applied's biggest customers is Marathon Digital (MARA). In this article, we'll review the company's latest quarterly earnings release, do a quick valuation comparison, and assess some of the commentary from CEO Wes Cummins during the recent conference call.
Earnings Figures
For the quarter ended November 2022, APLD reported $12.3 million in revenue – an increase of 78% from the prior period. Cost of revenue was up a bit more from $6.1 million to $11.8 million, or 93%. This resulted in a gross profit figure of $0.5 million; which was a sequential decline of 37% as cost of revenue outpaced revenue. From a balance sheet perspective, cash and investments moved down sequentially from $40.8 million after the prior quarter to $18.1 million now. The big stand-out expense was stock-based compensation of $21.8 million:

On the call, CFO David Rench said this was a catch up expense from previously awarded units and that no such stock awards are expected going forward. But because of that non-recurring stock compensation expense, Applied Digital had a $26 million operating loss at the end of Q2.
Valuation
Since Applied Digital is more of a facility than a true Bitcoin miner, in the past I've used both BTC mining firms and data center companies as valuation peers. Those peers have been Marathon Digital, Riot Blockchain (RIOT), Digital Realty Trust (DLR), Equinix (EQIX), and Innovative Industrial Properties (IIPR):
| | | | | | | |
| --- | --- | --- | --- | --- | --- | --- |
| | APLD | MARA | RIOT | DLR | EQIX | IIPR |
| Price/Sales TTM | 7.49 | 6.30 | 2.68 | 6.90 | 10.04 | 8.60 |
| EV/Sales FWD | 3.51 | 14.14 | 3.10 | 10.93 | 11.16 | 9.64 |
| EV/Sales TTM | 9.72 | 11.69 | 2.73 | 11.31 | 12.25 | 10.03 |
| Price to Book | 3.89 | 1.64 | 0.79 | 1.92 | 6.05 | 1.24 |
Source: Seeking Alpha
As of the company's last filing, we can see a valuation story that has become far less egregious for Applied Digital – and this is a continuation of an overall multiple story for APLD that has been an issue since my first APLD article in June 2022 when the price to sales trailing twelve months was over 37. While APLD was very expensive several months ago, I think it's a bit more debatable now. But it depends on which valuation models you prefer.

Working in price to book ratio, APLD is trending towards 4. Which I view as generally expensive. But there is no doubt the growth in revenue has helped compress some of the previously absurd sales multiples that Applied Digital's market cap reflected previously.
Earnings Call Insights
During the company's earnings call earlier this month, we received some interesting insight from CEO Wes Cummins during the question and answer segment. Cummins indicated there haven't been any customer payment defaults to this point despite the tough economics the broad mining space has endured over the last several months. He also hypothesized that because APLD runs newer equipment, Applied Digital's customer base has likely been closer to the top of the miner profitability curve than the bottom:
our customers have some of the most efficient miners in the marketplace. We run an efficient operation, and we charge a very reasonable price. So I think it makes our customers very competitive in the market.
Despite the apparent health of APLD's BTC miner client base, Applied is attempting to transition away from just a Bitcoin miner hosting service to a diversified data center business; one that offers both hosting services to miners and also high performance computing services to businesses more focused on rendering and artificial intelligence. The company has balked at buying distressed Bitcoin miner assets:
we've seen some things that are interesting, we were in some processes where we made some bids. But I don't feel like I feel like there's distressed assets that are still not selling at distressed prices. So when I see assets moving at a price that is at or even higher than what it costs us to build, where I know, the site is good. I know the equipment is good. I'm just not going to buy anything like that.
Cummins made it pretty clear on the call that HPC is the growth opportunity for Applied Digital and the company plans for high performance computing to be half of the overall revenue mix in 2025:
it's getting harder and harder for me to justify more money going towards Bitcoin mining versus the opportunities that we're seeing on HPC, specifically in machine learning and AI. We're having conversations with what most of the people on the phone here would have called well-recognized names and there's just a lot of interest
There was a follow up question regarding the names Applied Digital has been in conversation with for HPC services but Cummins understandably wouldn't elaborate.
Investor Takeaway
APLD is still a very speculative stock but I'm encouraged by both a valuation that has come drastically back down to earth and a shift toward a revenue stream that seems to make more sense long term than just Bitcoin mining. But this is a company that is definitely going through a transition and because there is so much that is still unknown, I think it's a hold rather than a buy today. There are a lot of companies that are chasing HPC and it's way too early to tell which Bitcoin miner (if any) will be able to generate meaningful revenue from that type of business.
Bottom line, there is still too much up in the air for me to personally allocate any capital to APLD shares, especially after the enormous rally that took it above $3 per share on Friday. But it's still a name that I think should be on a watch list.