Biogen: What To Do Ahead Of Q4 2022 Financial Report (NASDAQ:BIIB)
On February 15, 2023, Biogen (NASDAQ:BIIB) will publish financial results for the fourth quarter and full year of 2022. In previous years, the company released its results in early February, and, as a result, the announcement of reporting almost two weeks later than Biogen's standard policy may indicate unsatisfactory medicine sales in the last three months of 2022.
For the past eight quarters, Biogen's revenue and Biogen's EPS have been declining year-on-year due to increased competition in the central nervous system treatment market and the commercialization of the generic version of the company's blockbuster, Tecfidera. Moreover, there is raising uncertainty about whether Leqembi (lecanemab-irmb) will become a commercially successful product in treating Alzheimer's disease or whether its sales will fail like the infamous Aduhelm. The gathering of thunderclouds over the company is reflected in Biogen's lower P/E and P/S ratios relative to the average for the healthcare sector.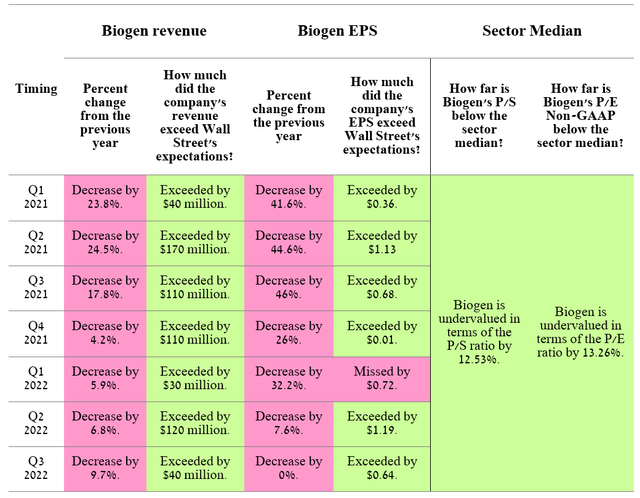 This article will discuss the factors contributing to the decline in margins and sales of the company's key products and my vision for the Biogen's future in the coming years.
Biogen Approved Medicines Portfolio
Biogen's business focuses on developing and commercializing drugs aimed at treating patients living with neurological and neurodegenerative diseases. Biogen was one of the key players in the global pharmaceutical market, creating breakthrough drugs for its time for treating multiple sclerosis and spinal muscular atrophy (SMA). However, the situation has drastically worsened due to the loss of Tecfidera's exclusivity in the United States in 2020 and the entry of a new generation of drugs into the market.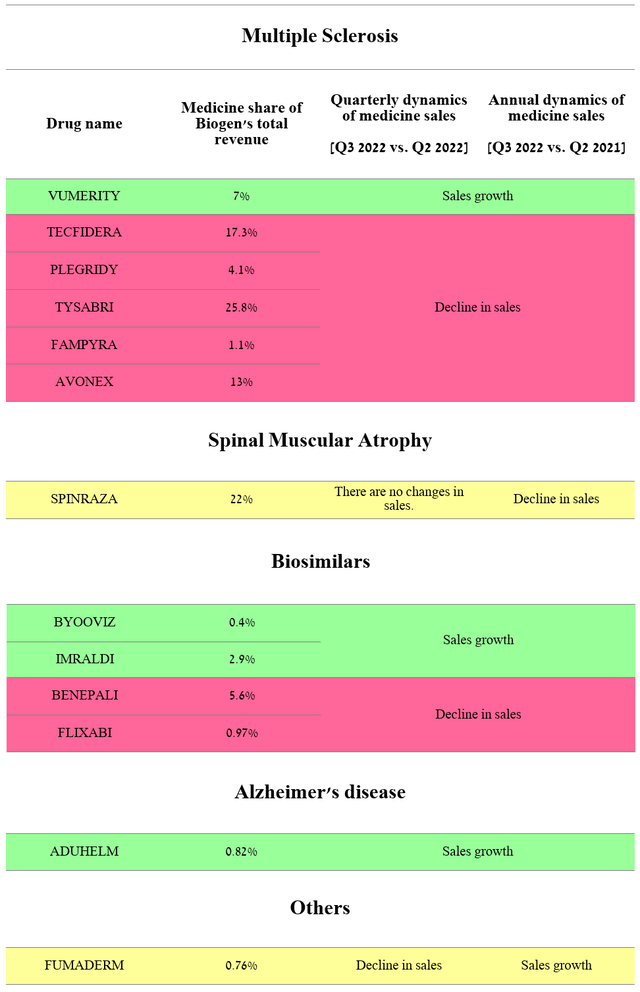 The company's total revenue was $2,508.5 million in the third quarter of 2022, down 9.7% from the previous year. A more noticeable decline in sales can be observed relative to 2020, even despite the restrictive measures introduced at that time and a significant decrease in doctor visits.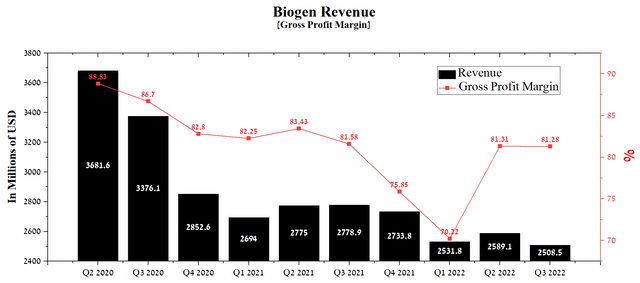 In Q3 2022, multiple sclerosis franchise sales, which include brands such as Tecfidera, Tysabri, Fampyra, Vumerity, Avonex, and Plegridy, generated $1,339.8 million for Biogen, accounting for 68.3% of the company's total revenue and yet this share has remained stable over the past years. The top-selling medicine from this franchise is Tecfidera (dimethyl fumarate), whose sales have plummeted in recent quarters to $339 million in Q3 2022 due to increased competition in this market and an increase in manufacturers of its generic version in the United States.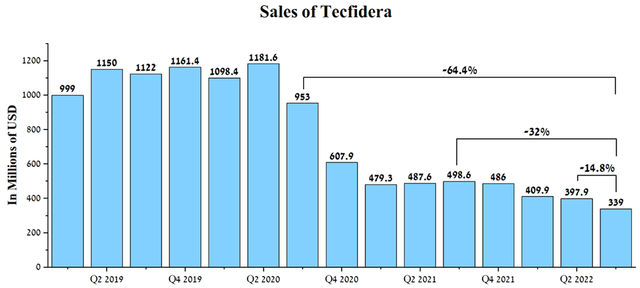 In addition, drugs from Johnson & Johnson (JNJ), Pfizer (PFE), Merck (MRK), Sanofi (SNY), and Bristol-Myers Squibb (BMY), which have higher efficacy and a more favorable safety profile compared to Biogen products, continue to be introduced into the medical practice of neurologists, which is reflected in the growth of their sales. At the end of December 2022, the FDA approved Briumvi for the treatment of relapsing forms of multiple sclerosis (RMS). One of the main advantages of this drug compared to other anti-CD20 monoclonal antibodies is the faster infusion time. For example, Briumvi is administered 1 hour every six months. While Roche's Ocrevus (OTCQX:RHHBY) (OTCQX:RHHBF) is administered over 2.5 hours every six months, Kesimpta requires an infusion every month.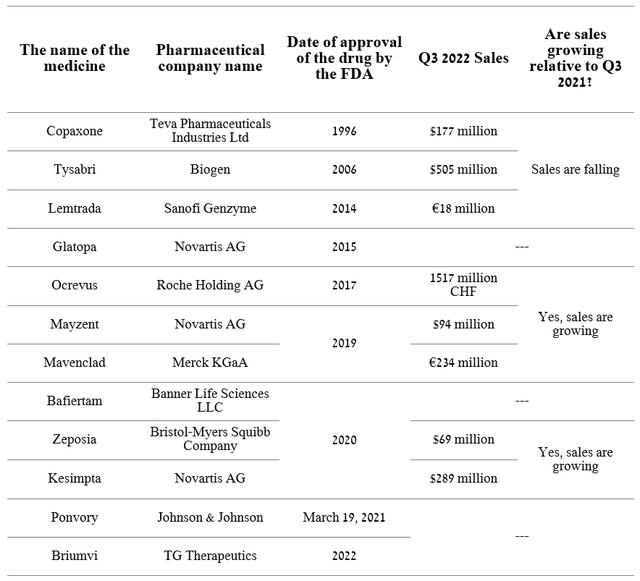 In third place in Biogen's revenue is Spinraza, a drug for treating spinal muscular atrophy. Sales of this medicine were $431.1 million in Q3 2022, down 2.3% from Q3 2021. The graph below shows a decline in sales in recent years, mainly due to the approval of two innovative products, namely Evrysdi, whose commercial rights are held by Roche and PTC Therapeutics (NASDAQ:PTCT), and Novartis' gene therapy Zolgensma, both of which have competitive advantages relative to Spinraza.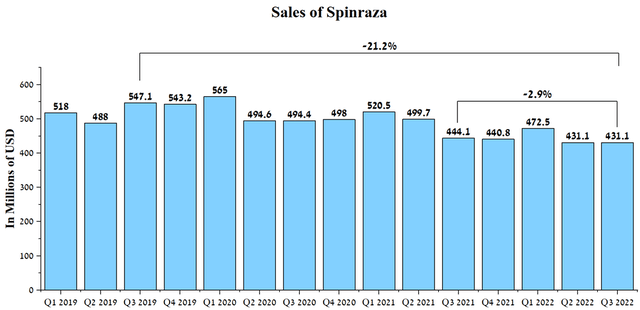 In the SMA treatment market, I expect Evrysdi to continue to gain market share due to the oral route, which has dramatically improved the quality of life of patients suffering from this deadly disease. At that time, Spinraza is administered intrathecally, that is, it is injected into the cerebrospinal fluid through a needle inserted into the lower back, which causes relatively great inconvenience to both patients and parents. In my estimation, the Zolgensma will also face sales difficulties due to safety concerns. So on August 11, 2022, Novartis reported that two patients died due to the use of Zolgensma due to acute liver failure. The advantages of Roche's product and the disadvantages of Novartis' medicine (NVS) were reflected in their Q4 2022 sales. So sales of Evrysdi amounted to ₣326 million, which is 58.3% more than the previous year. At the same time, Zolgensma sales were $309 million in the last three months of 2022, down $33 million from Q4 2021.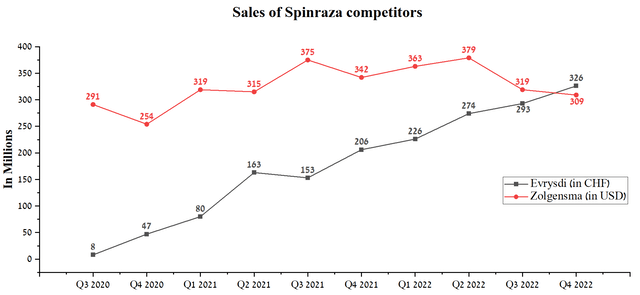 According to my model, I expect Spinraza sales to decline by an average of 4.2% over the next five years while Roche's drug becomes the gold standard in treating SMA.
Biogen's financial position
The decline in sales of three of Biogen's key products is reflected in the decrease in the company's EBITDA, which was $945.4 million in Q3 2022, down slightly from the previous year. At the same time, there was a more significant deterioration in this financial indicator compared to the 3rd quarter of 2020.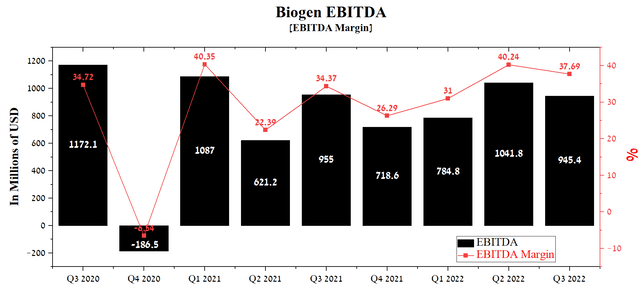 Biogen's R&D spending was $549.2 million in Q3 2022, down 21.8% from Q3 2021. On the one hand, cost reduction is a favorable factor, as it stabilizes the company's net income during the period of revenue decline. On the other hand, this points to stagnation in the expansion of Biogen's product candidate portfolio.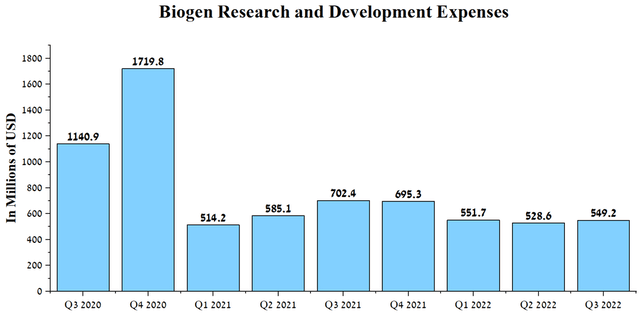 The company continues to spend hundreds of millions of dollars developing lecanemab and elenbecestat, which totaled $323 million in 2021, an increase of $103.7 million from 2020. According to my model, this figure will continue to grow in the coming quarters due to the conduct of phase 3 clinical trials and preparations for the commercialization of lecanemab worldwide. On January 6, 2023, the FDA approved Leqembi (lecanemab) for treating patients in the early stages of Alzheimer's disease, making it the second anti-amyloid drug to receive a regulatory green light. Biogen is developing lecanemab in partnership with Eisai, with all research, sales, and marketing costs to be shared equally between the two companies. In addition, Eisai (OTCPK:ESALY) has set the price of Leqembi at $26,500 per year of therapy. Due to the relatively low price, the medicine will likely not significantly impact Biogen's revenue in the next six quarters. On the other hand, the approval received has reduced the medium term in large mergers or acquisitions of pharmaceutical companies to keep the business afloat.
Unlike many large pharmaceutical companies, Biogen has a relatively low debt burden, which is especially important in the current period of raising interest rates by global central banks. Biogen's total debt was $6,634 million in Q3 2022, down 13.8% from the end of 2021. In July 2022, the company redeemed 3.625% senior notes ahead of maturity, decreasing the Total Debt/EBITDA ratio to 1.9x in 2022. Consequently, this indicates that there are no risks associated with the company's debt, and Biogen's management can focus on developing the drug portfolio to close the profit hole.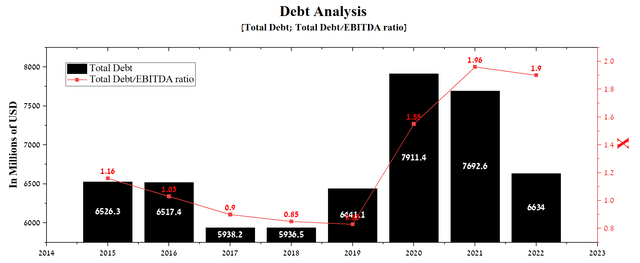 Conclusion
Biogen is one of the key biopharmaceutical companies in developing and commercializing innovative treatments for people living with neurological and neurodegenerative diseases such as spinal muscular atrophy, multiple sclerosis, and Alzheimer's disease. The company has partnered with industry giants like Roche and has the financial rights to many anti-CD20 therapies approved for various types of cancer.
In recent years, medicines have flooded the market, offering patients and doctors new benefits over Biogen products, and the unexpected loss of the Tecfidera patent in 2020 has led to a significant deterioration in the company's financial position. For example, Biogen's revenue was $2,508.5 million in Q3 2022, down $270.4 million from Q3 2021. The situation could not be corrected by Vumerity (diroximel fumarate), approved in 2019, which did not gain the same popularity as its predecessor Tecfidera. Consequently, this significantly reduced the company's share of the therapeutic market for multiple sclerosis.
As a result of declining sales of the company's best-selling drugs, I believe the best strategy for long-term investors is to wait for Leqembi's sales performance and the results of phase 3 clinical trial of Eli Lilly's donanemab (LLY) in mid-2023. Also on the heels is Cassava Sciences' (SAVA) product candidate, which showed stunning results in treating patients with mild to moderate Alzheimer's disease in a phase 2b clinical trial and is currently in phase 3.
Overall, 2023 will be a transitional year for the company, with many events that could both improve Biogen's investment attraction and lead to a significant drop in its share price down to $200, thereby closing the gap after Leqembi's approval. In my estimation, the FDA decision is expected in late 2022/early 2023 on the application for zuranolone being developed jointly with Sage Therapeutics (SAGE) as a treatment for major depressive disorder and postpartum depression. In addition, the results of the FDA Advisory Committee vote on tofersen, which is being developed jointly with Ionis Pharmaceuticals (IONS) for the treatment of amyotrophic lateral sclerosis, will be published in late March. In my estimation, the committee will vote against the approval of this medicine even though there is a high degree of unmet need in the fight against this deadly disease due to the failure of the primary and some secondary endpoints.
In conclusion, I want to note that in the medium term, investors and market participants should keep a close eye on Leqembi's sales. If its sales are unsatisfactory, whose growth rate will be lower than the sales decline rates of other products of the company and/or the Eli Lilly product candidate will be more effective in treating patients with Alzheimer's disease relative to the Biogen product, then this will lead to a continued deterioration in the company's cash flow and, as a result, Biogen may become a value trap for the coming years. As a result, Biogen's share price performance may be behind the S&P 500 (SPY) and the iShares Biotechnology ETF (IBB).
Editor's Note: This article discusses one or more securities that do not trade on a major U.S. exchange. Please be aware of the risks associated with these stocks.