CHIX: Financials Could Lag The Broader Chinese Rebound
It's still early days to call for a full-blown China recovery, but things are looking good following the latest economic and consumer data releases pre and post-Lunar New Year (as discussed here). Also bullish are the accompanying fiscal signals, suggesting a near-term consumption-driven rebound as last year's savings get drawn down. As a proxy to China's financials, the Global X China Financials ETF (NYSEARCA:CHIX), a fund that retains an outsized exposure to the domestic banking sector, should benefit from this growth.
Yet, credit growth drivers outside of the Chinese consumer have shown limited upside potential thus far. At the provincial level, growth is targeted to come largely from consumption, but the impetus for infrastructure buildout, traditionally a key feature of local government initiatives and credit growth, has not materialized.
In sum, the government appears content with support (property) and less negative policies (e.g., for tech) rather than full-blown stimulus; pending any unforeseen changes to the >5% national GDP target for 2023, loan growth should track the status quo. This likely won't be enough to offset the loose monetary policy headwind from the central bank ('People's Bank of China or 'PBoC') and the resulting net interest margin (NIM) compression from rate cuts. Net, I would favor the Global X China Consumer ETF (CHIQ) for China exposure over CHIX at this point in the cycle.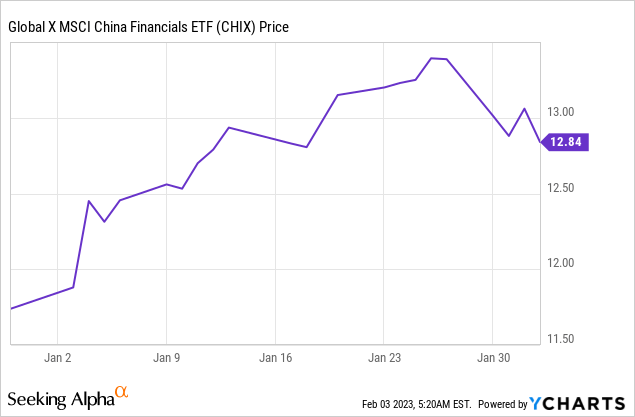 Fund Overview – A Relatively Low-Cost China Financials Play
The Global X MSCI China Financials ETF tracks, before fees and expenses, the overall performance (price and yield) of the MSCI China Financials 10/50 Index. Like the index, the fund comprises investments in large- and mid-cap equities within the Chinese financials sector (as defined by the Global Industry Classification System (GICS)). The ETF held net assets of $26m at the time of writing and charges a 0.65% expense ratio (mainly management fees).

Per the latest factsheet, the ETF has its largest exposure to Major Banks (32.2%), followed by Regional Banks (21.2%), Multi-Line Insurance (14.5%), and Investment Banks/Brokers (14.3%). In total, the largest four industries have an 82.2% allocation – this industry mix has generally been consistent with prior years.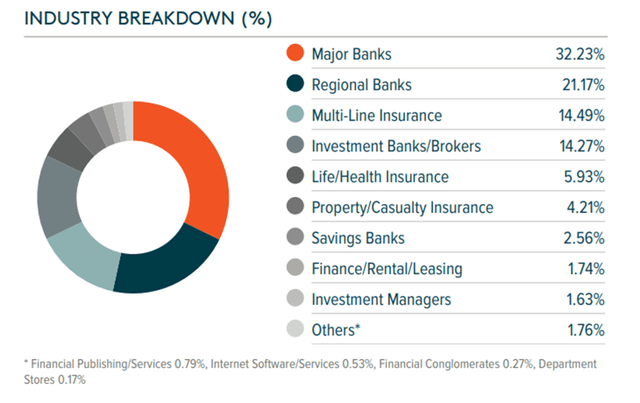 While the fund's largest holding at 10.5%, Ping An (OTCPK:PNGAY), operates in the insurance space, every other holding in the ETF's top five list is a major bank. Bank Of China (OTCPK:BACHF) has the second-highest allocation at 8.4%, followed by commercial banking leader China Construction Bank (OTCPK:CICHY) (8.2%), Industrial and Commercial Bank of China (OTCPK:IDCBF) (8.1%), and China Merchants Bank (OTCPK:CIHKY) (7.3%). The portfolio is composed of 92 holdings, but with the top ten holdings accounting for ~57% of the overall portfolio and the top four banking names (three of the Chinese' big four') contributing ~32%, this is a concentrated fund levered to domestic banking trends.

On a YTD basis, the ETF has returned 8.1%, but on an annualized basis, the fund has compounded at a meager 1.0% in NAV and market price terms, in line with the index performance (before fees). While financials were one of the more resilient sectors in China last year, CHIX has underperformed the YTD Chinese equities rebound, with the US-listed China iShares MSCI China ETF (MCHI) running at +9.6% and the Chinese consumer ETF, CHIQ, leading the way at +10.5%. Where CHIX stands out, however, is on its distribution yield at an attractive 4.6% – given the stable cash flow generating profile of the fund's banking and insurance holdings, ETF holders generally also benefit from a steady growth in distributions every year.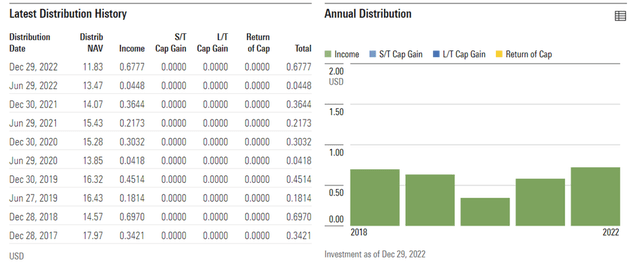 Disappointing Money and Credit Data Reinforces Accommodative PBoC Stance
China's money and credit data for the month of December fell short of expectations – new aggregate financing declined to RMB1.3tn (down from ~RMB2tn in November) amid a net decline in corporate bond issuance, as well as wealth management product redemptions. The bright spot was on new bank loans, which rose to RMB1.4trn despite rising COVID cases during the month. Digging deeper, however, much of the growth came from an acceleration in medium- to long-term corporate loans, with private credit trends falling short. The former likely reflected policy easing via bank lending to troubled infrastructure and property projects, though, and should wind down as balance sheets recover alongside the broader economy.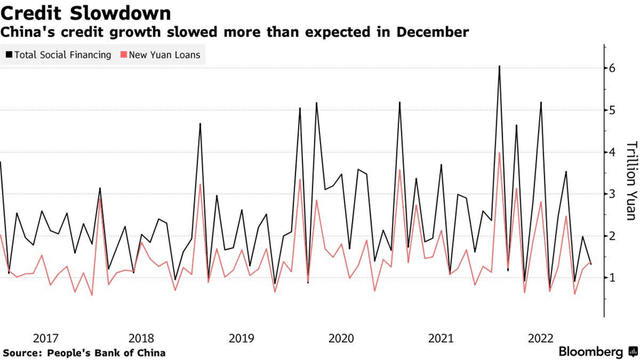 Expect the demand pickup pre- and post-Lunar New Year to drive a modest rebound in consumer credit growth in early 2023, though the lack of fiscal stimulus by the central and provincial governments could dampen loan growth elsewhere. Banks will also need to contend with a more accommodative PBoC, with inflation remaining well within the government's target. Thus, NIMs could come under more pressure in the coming months, and CHIX's outsized banking exposure leaves the fund vulnerable on this front.
Lagging Property Market Weighs on a Banking Recovery
Another key takeaway from the loan data is on mortgages, with mid to long-term loan growth decelerating to 5.1% (from 5.5% prior) amid continued weakness for home purchases. This tallies with declining YoY sales trends for the major developers. Demand-side support from policymakers (e.g., lower rates for first-time buyers) should help, though the key to a property recovery lies in the pace of economic growth post-COVID.
Beyond financing costs, which will see additional support from PBoC easing, developer solvency and execution (helped by government backstops) will also be important to reigniting property-led loan growth. While I do expect fading COVID headwinds and favorable policies to help in 2023, pending a meaningful infrastructure-led stimulus effort, a meaningful reversal in investment growth (currently still negative YoY) seems unlikely anytime soon. Given the outsized contribution of property to the major banks' loan books, this would weigh on the near-term CHIX performance.
Financials Could Lag the Broader Chinese Rebound
If high-frequency data during the Lunar New Year is any indication, a consumer-led China recovery is moving into full swing as pent-up demand, and a significant buildup of excess savings is unleashed post-COVID. While I remain bullish on the Chinese consumer, the outlook for financials is less certain, in my view.
More consumption should translate into more consumer loan growth, but infrastructure credit growth has lagged. It appears that Chinese authorities are leaning on consumption rather than infrastructure (traditionally a core part of local government stimulus) to drive the growth impetus this time around. This implies a largely status quo fiscal spending scenario rather than broad-based stimulus, leaving the banks exposed to NIM pressure from monetary easing without sufficient offsets from loan growth. Having already lagged behind the Chinese rally YTD, expect the major financial stocks and, by extension, the Global X China Financials ETF to continue underperforming, given its heavy banking exposure.