Envista Holdings Stock: Positive Long-Term Outlook (NYSE:NVST)
Overview
My recommendation is to go long Envista (NYSE:NVST). The long thesis for NVST is based on the growth potential of the global dental industry, which has a total addressable market of $27 billion and is expected to expand at a CAGR of mid-single digits. NVST has a comprehensive product portfolio and a global reach, allowing it to meet the needs of dental care providers worldwide. The company also has a strong track record of innovation and M&A should remain a key component of its growth strategy. NVST's strong financial profile, including $350 million in expected FCF in FY23, gives it the ability to leverage up to 4x EBITDA and conduct more deals. Despite short-term macroeconomic uncertainty, management has confirmed its 2022 guidance of mid-single-digit core growth and 20% adjusted EBITDA margins.
Business description
NVST is a major player in the global dental industry, with strong footholds in implant, orthodontic, and digital imaging technology markets. NVST has one of the largest selections of dental supplies, tools, and services on the market for dentists and other oral health care providers.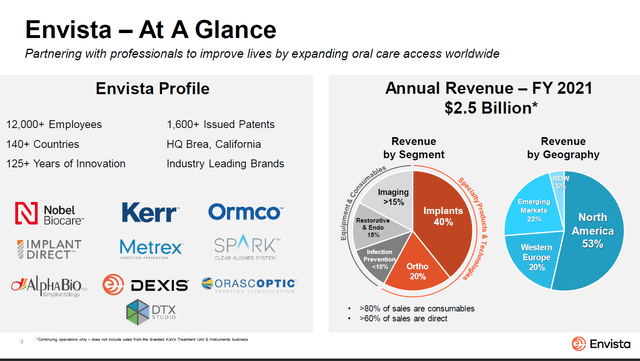 Dental product is an attractive industry
I think the global dental products industry is a promising and expanding subset of the healthcare industry. And NVST targets the high-value segments that has a total TAM of around $27 billion. These subsectors are also expected to expand at a CAGR of mid-single digits over the next few years.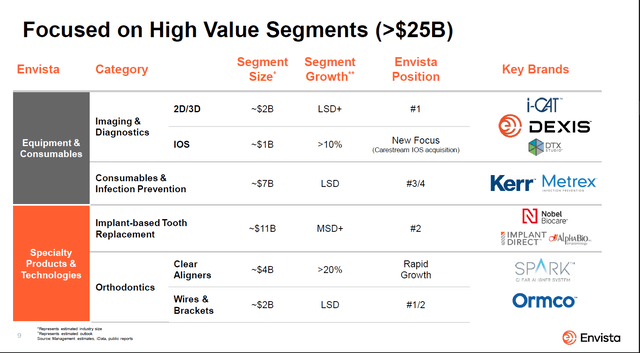 Additionally, I anticipate that with more senior/elderly people, the current low adoption of dental procedures, technological advancements allowing more accessible complex procedures, a growing interest in cosmetic dentistry, and the rise of dental service organizations [DSO] will all contribute to the future expansion of the dental products sector. Because of these causes, dental care is likely to spread more widely and become more accessible to more people in more places.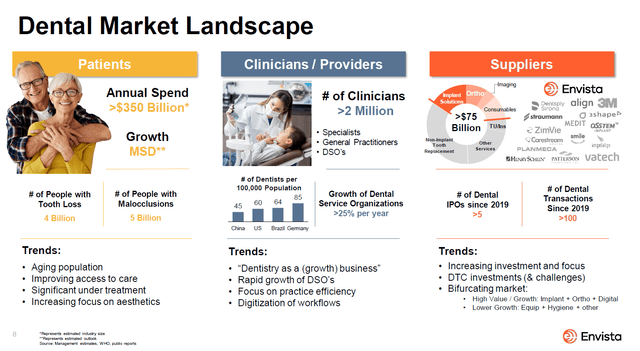 Dentists will spend a considerable amount of money on both equipment and consumables, but the two markets operate differently. The success of an equipment manufacturer is tied to both the rate at which new technologies are developed and the level of interest dentists have in purchasing and implementing those technologies. But consumables are more sensitive to overall patient volume. That's why I think large, diversified manufacturers with a wide range of products (both capital goods and consumer goods) are better able to weather economic downturns. Because of the growing trend of bundling among larger customers and the adoption of digital dentistry, which facilitates the linking of various products in dental clinics, these businesses would gain a significant competitive advantage over their peers that offer a single line of products.
NVST has a comprehensive portfolio and global reach
In my opinion, NVST has one of the most extensive product lines in the dental industry, making it the go-to supplier for many individual dentists, dental labs, wholesalers, and DSOs. In order to meet the needs of patients across all demographics, healthcare providers can turn to NVST, whose extensive catalog includes everything from budget-friendly options to name-brand luxuries. One of NVST's fastest-growing customer bases has been DSOs, and I think the breadth of its product offering makes it ideally suited to meet their needs.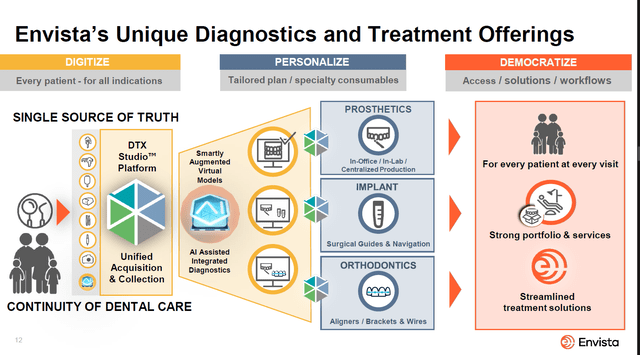 In addition to its extensive product catalog, NVST's global reach is a major strength (as of 3Q22, 57% of NVST's revenue was generated from markets outside the United States). Large team sales teams and dealer partners allow NVST to reach dentists in over 140 countries. In my opinion, NVST is better able to meet the needs of its customers thanks to its many distribution channels, global manufacturing capabilities, and familiarity with local markets around the world.
Successful innovation should continue to drive growth
As a business that needs to meet with the continuous advancement of healthcare needs (new diseases, better patient experience, higher ROI for providers), having the ability to innovate is paramount.
NVST has a strong track record in introducing numerous dental products. Its well-established commercial setup allows it to identify unmet needs in the dental industry and fill those gaps with innovative products. NVST's continuous focus on innovation has resulted in a diverse range of unique dental products. Additionally, the company leverages external collaborations, partnerships, and investments with academic institutions, government labs, and innovative start-ups to enhance its product development. This makes NVST well-positioned to identify market challenges and create solutions, giving it a "first-mover" advantage.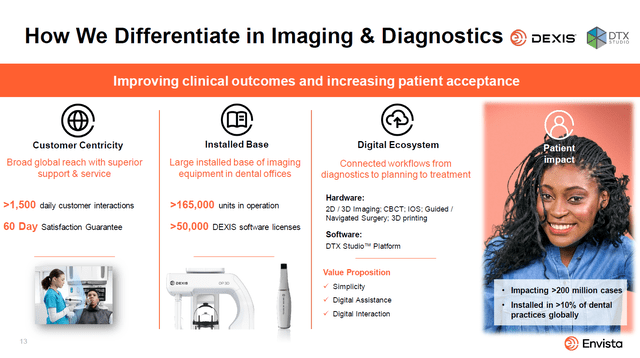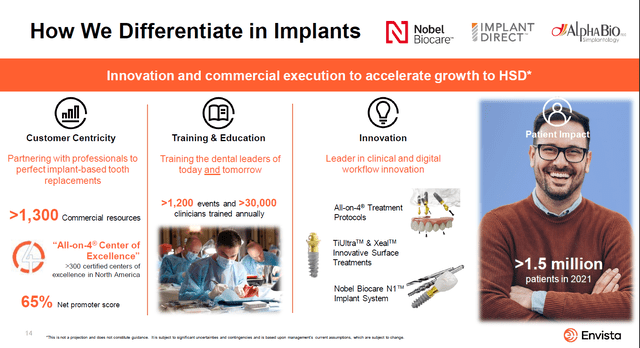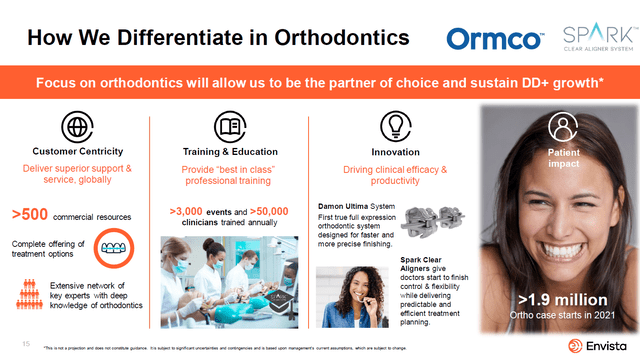 Upside from M&A
M&A should remain a key component of NVST's growth strategy alongside organic acceleration and margin expansion. To this day, the dental market is still extremely disorganized. With its size, M&A experience, capital structure, and strong FCF profile, I expect NVST to be in a good position to drive future consolidation. Currently, NVST's net debt is equivalent to about two times its EBITDA, but consensus expects it generate about $350 million in FCF in FY23, which would bring leverage down to less than 2x. My estimation is that NVST could easily leverage up to 3x to 4x EBITDA, giving it another $1 billion in cash to conduct deals.
The company typically prioritizes tuck-in deals, which either increase the company's emphasis on the most attractive segments and geographies or allow it to enter low-penetration categories. In addition to this, NVST hopes to take advantage of the company's established reputation by purchasing dental technology that can improve the field. The door to exploring potential adjacency opportunities is also always open.
Long-term outlook still positive
A strong S&T division was responsible for NVST's better-than-expected 3Q22 results, which were partially offset by lower-than-expected earnings from the E&C division. Despite my concerns about the macro environment, NVST has reaffirmed its 2022 guidance of mid-single digits core growth and 20% adj. EBITDA margins. However, management has been reminded that the macro environment is still in flux, so results may be erratic in the short term. But they are still trusting the advice given over the long haul.
The third-quarter results and the restated outlook for 2022 have been encouraging. While I agree that NVST's growth profile will be under pressure in 2023, I anticipate that the company's attention will be primarily directed toward more expensive pieces of machinery, and I anticipate that clear aligner performance will be more insulated than peers thanks to the greenfield opportunity for Spark. In light of the bright LT forecast, I maintain my conviction that the NVST story is compelling.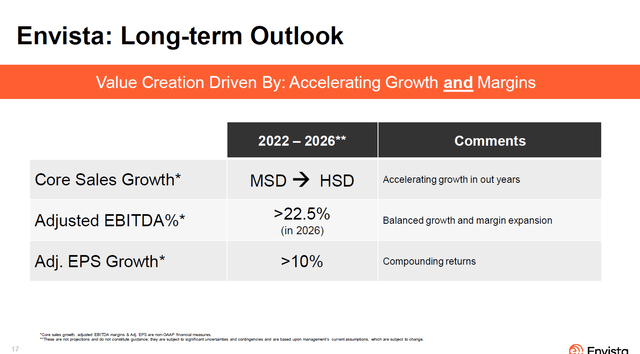 Forecast
I believe NVST has 33% upside. My model indicates that it is worth $50.82 in FY24. As mentioned above, I believe growth might be slightly impaired in FY23 given the weak macro backdrop, but I expect growth to reaccelerate to normalize levels in FY24/25 – consistent with management long-term guidance. I also think that margins should expand as guided as NVST continue to innovate higher value products.
All in all, I expect NVST to generate around $436 million in earnings in FY25. If we assume NVST to trade at the same forward earnings multiple, the stock is worth $50.82 in FY24, or 33% more.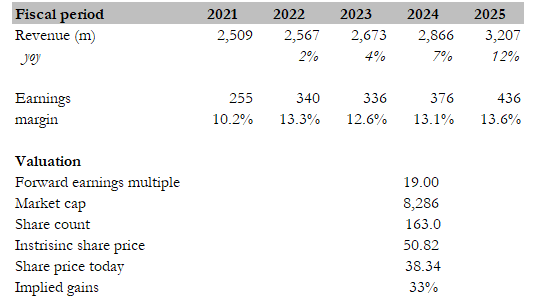 Key risks
Economic cycles
Since many dental procedures are optional, the dental market is vulnerable to shifts in consumer discretionary spending because of the high cash-pay component of the market compared to other healthcare services. Volatility in consumer demand may be triggered by the ebb and flow of the economy.
Sell-in / Sell-through
The company relies heavily on distributors to sell its traditional equipment and consumables. While distributor stock has been steady as of late, restocking and destocking by distributors in the years ahead could cause revenue fluctuations.
Conclusion
The NVST investment thesis is based on the growth potential of the global dental industry, which is estimated to be worth $27 billion and expected to experience mid-single-digit growth in the coming years. NVST is well-positioned to serve the dental industry with its comprehensive product range and worldwide presence. The company also has a track record of innovation and plans to continue expanding through M&A. With consensus projected FCF of $350 million in FY23, I believe NVST has a strong financial standing, enabling it to pursue acquisitions and borrow up to 4x EBITDA. More importantly, despite short-term economic uncertainty, management remains committed to its 2022 guidance of mid-single-digit core growth and 20% adjusted EBITDA margins.