Real Estate Weekly Outlook
This is an abridged version of the full report and rankings published on Hoya Capital Income Builder Marketplace on January 21st.
U.S. equity markets posted their first weekly declines of the new year as investors parsed a mixed slate of corporate earnings reports and lukewarm economic data alongside hawkish Fed rhetoric before its "quiet period" for the upcoming February meeting. While inflation data continued to exhibit an encouraging cooling trend, labor markets have remained seemingly unshakable which – together with a recent rebound in oil and gasoline prices – have renewed concern that persistent price pressures and tight monetary conditions may linger for longer than investors hoped.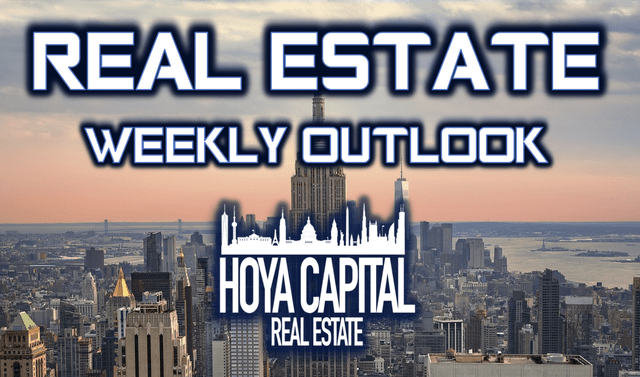 Retreating after two-straight weeks of gains, the S&P 500 slipped 0.7% on the week, but the tech-heavy Nasdaq 100 managed to eke out a weekly gain of 0.6%. The more domestic-focused Mid-Cap 400 and Small-Cap 600 each slipped about 1%. Buoyed by a continued retreat in longer-term benchmark interest rates and a solid start to earnings season, real estate equities were again among the outperformers on the week. The Equity REIT Index finished lower by 0.6% this week, but the Mortgage REIT Index gained 0.5%. Homebuilders and the broader Hoya Capital Housing Index also continued their relatively strong start to the new year, lifted by further indications that moderating mortgage rates have begun to thaw the icy-cold housing market.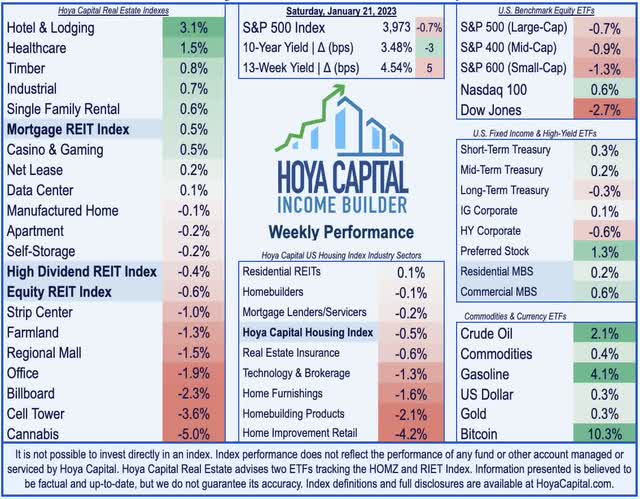 Ahead of the Federal Reserve's "quiet period" before the February meeting, most Fed officials struck a decidedly hawkish tone, highlighted by remarks from Vice Chair Brainard who reiterated that policy rates will "need to be sufficiently restrictive for some time" to tame inflation. Cooler-than-expected PPI inflation data, however, was enough to keep downward pressure on longer-term benchmark rates with the 10-Year Treasury Yield retreating 3 basis points to close at 3.48% – back on the cusp of the lowest levels since September and well below its peak closing high of 4.25% in October. Crude Oil and Gasoline prices continued their rebound with WTI Crude now about 15% above its recent December lows, but still 35% below June 2022 peaks. Three of the eleven GICS equity sectors finished higher on the week after solid results from streaming-giant Netflix (NFLX) sparked a rebound across several related large-cap Communications (XLC) and Technology (XLK) stocks.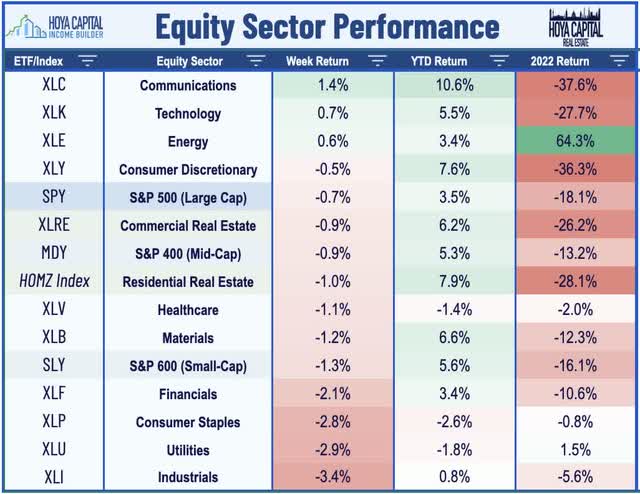 Real Estate Economic Data
Below, we recap the most important macroeconomic data points over this past week affecting the residential and commercial real estate marketplace.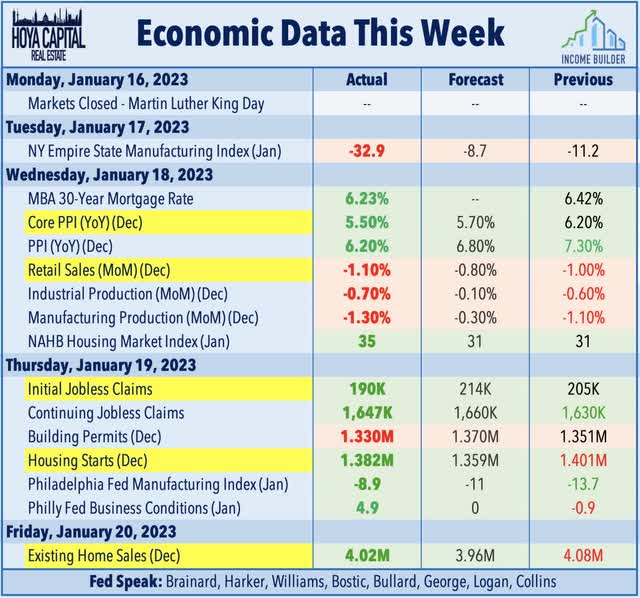 Following the cooler-than-expected CPI report last week, investors saw another encouraging sign that inflationary pressures have eased with Producer Price Index data this week showing that wholesale prices fell sharply in December. The headline PPI Index for Final Demand declined 0.5% for the month – a sharper decline than the 0.1% consensus forecast – which dragged the annual increase to 6.2%, the lowest annual level since March 2021, and down considerably from the 10% annual increase in 2021. Notably, the PPI Goods Index dipped 1.5% in the month – helped by a 7.9% plunge in energy prices and a 1.2% decline in food prices. The PPI Services Index increased by 0.1%, pulling the annual increase down to 5.0% – the lowest since early 2021. Notably, other more-forward-looking metrics in the report showed even more pronounced declines in inflationary pressures. The Processed Goods for Intermediate Demand Index plunged 2.8% in December – the sharpest decline on record behind the "shutdown" month of April 2020.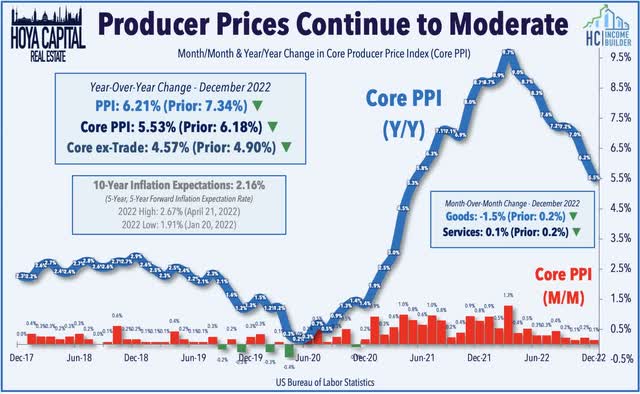 Cooling rate pressures can't come soon enough for the U.S. housing industry, which continues to bear the brunt of the impact of extreme monetary tightening that has more-than-doubled the interest rate for a conventional 30-Year Fixed Mortgage. A busy slate of data this week showed an ongoing "winter chill" across the housing industry – underscored by an 11th straight monthly decline in Existing Home Sales to the lowest levels in over twelve years while Housing Starts dipped more than 20% from last December – but also some encouraging signs of potential thawing as rate pressures have eased a bit in recent months. Per Freddie Mac, the average contract rate 30-Year Fixed Rate Mortgage declined to 6.15% this past week – the lowest since early September – and well below the recent peaks above 7.0%.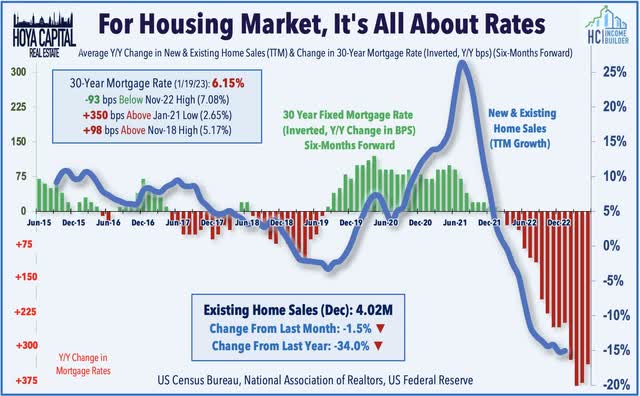 Responding to the rate retreat, several forward-looking indicators showed early hints at a demand recovery. The Mortgage Bankers Associated reported this week that mortgage applications surged 27.9% from the prior week while Redfin reported last week that its Homebuyer Demand Index increased 6% over the past month while Google searches for "homes for sale" were up nearly 50% from their November low. Homebuilder Sentiment also unexpectedly rebounded in January – rising for the first time in a year – with the NAHB noting "that cycle lows for permits and starts are likely near, and a rebound for home building could be underway later in 2023."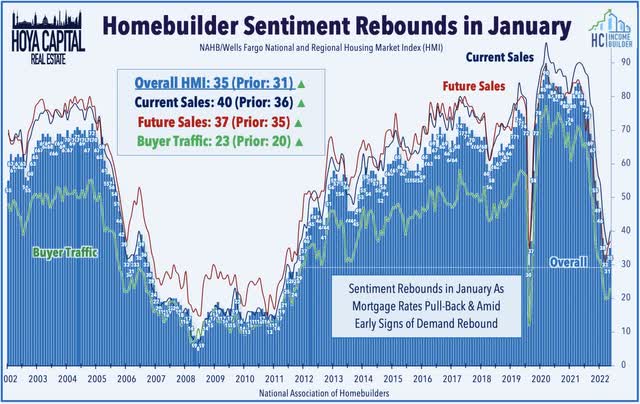 Notably, housing inventory levels have remained near historic lows despite the sharp drop-off in demand over the past several months as single-family builders were quick to respond to waning demand, underscored by the 25% year-over-year decline in single-family starts in December. The monthly supply of Existing Homes dipped to just 2.9 months in December – well below historical averages – while the Median Number of Months on the Sales Market for Newly Completed Homes stands at just 1.9 months – barely above the record-lows in October of 1.5 months. Existing Sales data this week showed that 57% percent of homes sold in December 2022 was on the market for less than a month. All-cash sales accounted for 28% of transactions in December, up from 26% in November and 23% in December 2021.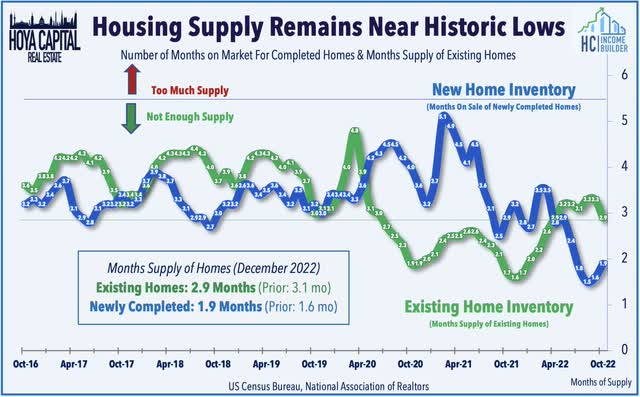 Equity REIT Week In Review
Best & Worst Performance This Week Across the REIT Sector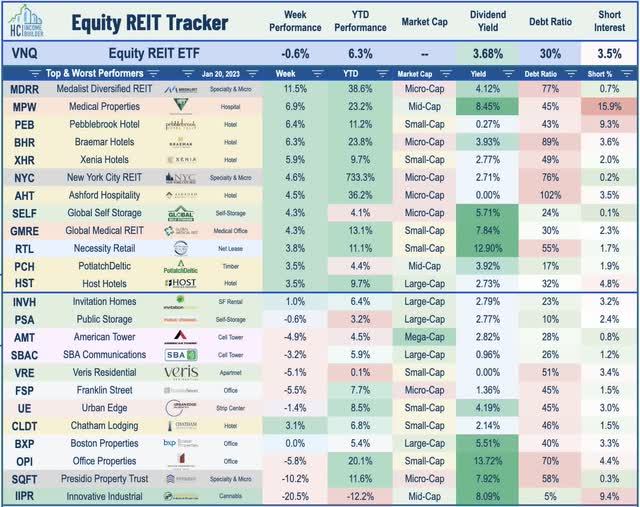 Industrial: Prologis (PLD) – which we own in REIT Dividend Growth Portfolio – gained 1% on the week after kicking off REIT earnings season with very strong results, reporting that its full-year Core FFO rose 11.1% in 2022 and provided initial 2023 guidance calling for Core FFO growth of 9.5%. Prologis recorded net effective rent growth of 50.6% in Q4 (down slightly from record-highs of 59.7% in Q3) and cash rent growth of 32.4% (also down from record-highs of 38.5% in Q3). This week we published Industrial REITs: Shortages Become Gluts which discussed the outlook for the logistics property sector heading into 2023 amid concerns over the "boom-bust" dynamics seen in pricing power across other segments of global supply chains including shipping and trucking. Industrial REITs aren't entirely immune from post-pandemic demand normalization, but supply remained inherently capped by land constraints. Rent growth will naturally moderate toward "trend" levels, but fundamentals are forecast to remain healthy absent a demand shock.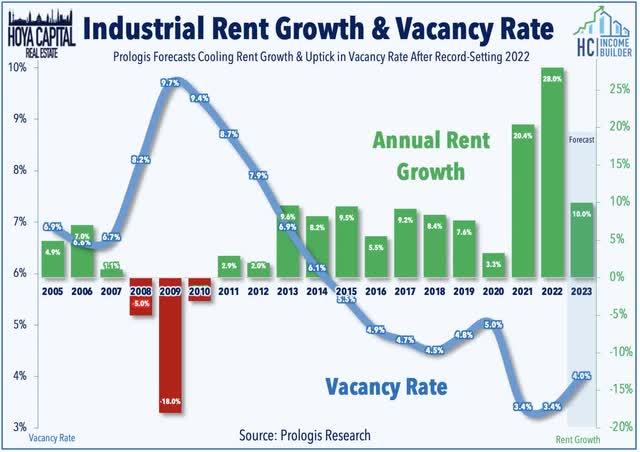 On the topic of earnings reports, while the REIT earnings calendar doesn't get busy until early February, we'll see a trickle of reports starting next week with office REIT SL Green (SLG) and cell tower REIT Crown Castle (CCI) on Wednesday along with timber REIT Weyerhaeuser (WY) on Thursday. Homebuilder D.R. Horton (DHI) will also report results on Tuesday. We'll publish our Earnings Preview report next week which will discuss the major themes we're watching over the next six weeks of REIT earnings reports.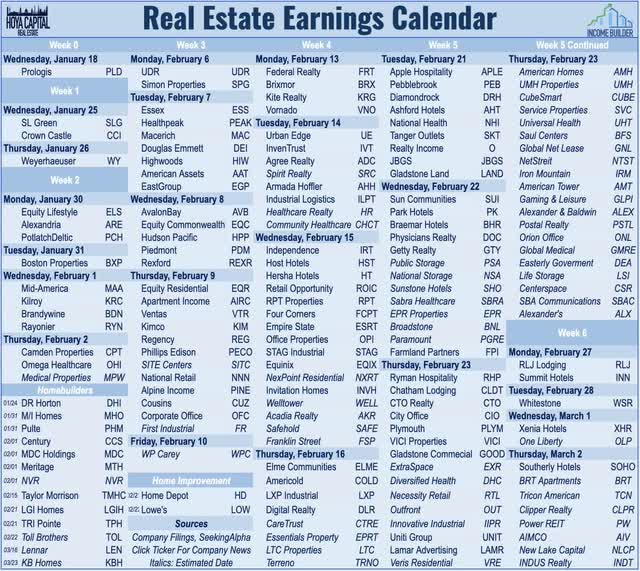 Hotels: Pebblebrook (PEB) rallied 6% on the week after providing a business update noting that its revenue and FFO metrics in Q4 were not as soft as previously forecast in mid-December. For the fourth quarter, PEB's Revenue Per Available Room ("RevPAR") was 8% below its 2019 pre-pandemic comparable level as an 18% relative increase in Average Daily Rates was offset by a 22% relative decline in occupancy rates. By comparison, PEB's third-quarter RevPAR was 1% above the pre-pandemic comparable – a deceleration that PEB attributed to weather-related impacts. PEB's weaker fourth quarter came amid an otherwise strong period for the broader leisure industry. Three of the six hotel REITs that have provided preliminary fourth-quarter results reported better RevPAR comparables in Q4 than in Q3.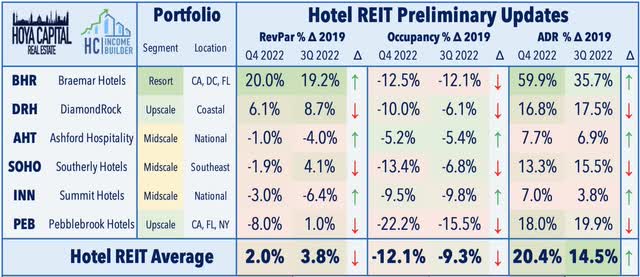 Expanding on that topic, data firm STR released its monthly hotel industry report this week showing that the national average RevPAR was 14.8% above 2019-levels in December – capping off the best year on record for both RevPAR and Average Daily Rates. Throughout the year, higher room rates drove the improved operating performance as the 8.1% annual RevPAR improvement over 2019-levels came despite occupancy rates that were 5% below pre-pandemic levels. For the year, Tampa registered the highest growth in RevPAR (+25.2%) while the steepest RevPAR deficit was in San Francisco (-33.4%). Higher-frequency data via the TSA Checkpoint statistics show that despite the broader recession concerns, 2023 is off to a strong start with January on pace to be the first month with passenger throughput above pre-pandemic levels.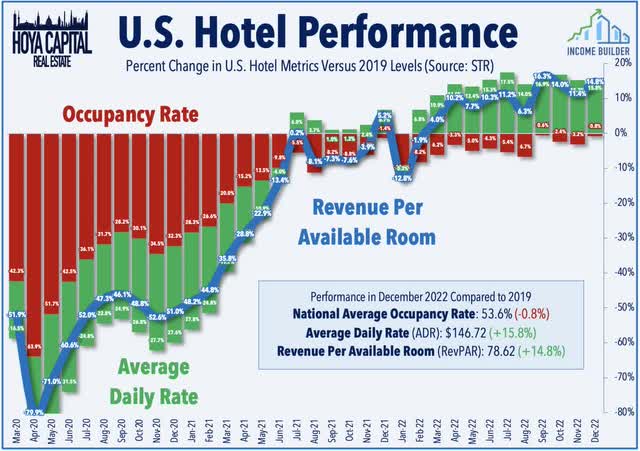 Healthcare: A pair of healthcare REITs rallied after one of their struggling tenants – Pipeline Health – announced that it expects to exit bankruptcy in the coming weeks. Hospital-focused REIT Medical Properties (MPW) rallied 7% after it announced that Pipeline will continue to operate its four Los Angeles area hospitals and two medical office buildings at its pre-bankruptcy lease rate and terms and pay 100% of rent accrued during its bankruptcy. Global Medical (GMRE) advanced 4% on the week after announcing that Pipeline will also assume its lease at White Rock Medical Center in Dallas with no material changes to the lease terms. Gibbins Advisors reported last week that bankruptcy filings for healthcare companies nearly doubled in 2022 compared to the prior year which it attributes to a "COVID hangover" resulting from waning government support and higher labor costs.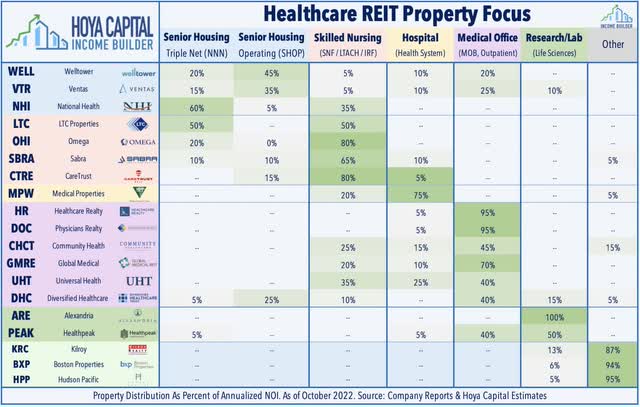 Cannabis: On the downside this week, Innovative Industrial (IIPR) slumped more than 20% after reporting additional rent collection issues from its cannabis cultivator tenants amid an ongoing struggle with headwinds from lower pot prices and challenging financing conditions. IIPR reported collection issues and/or deferrals with four additional tenants – Green Peak, Holistic, Calyx Peak, and Sozo Health – in addition to three tenants that it had previously reported having collection issues and/or rent renegotiations – Parallel, Kings Garden, and Vertical. IIPR failed to collect 8% of its January rents – up from 6% in December and 3% for full-year 2022 – due to partial defaults from Parallel (2.9%) and Green Peak (2.7%), a full default from Vertical (0.7%), and a deferral granted to Calyx Peak (1.2%). IIPR applied securities deposits from Sozo, Kings Garden, and Holistic over the course of December and January. None of the seven tenants are publicly-traded companies – which represent 55% of IIPR's portfolio. IIPR noted that its balance sheet remained well-capitalized with a roughly 12% Debt-to-Assets Ratio with no major debt maturities until May 2026.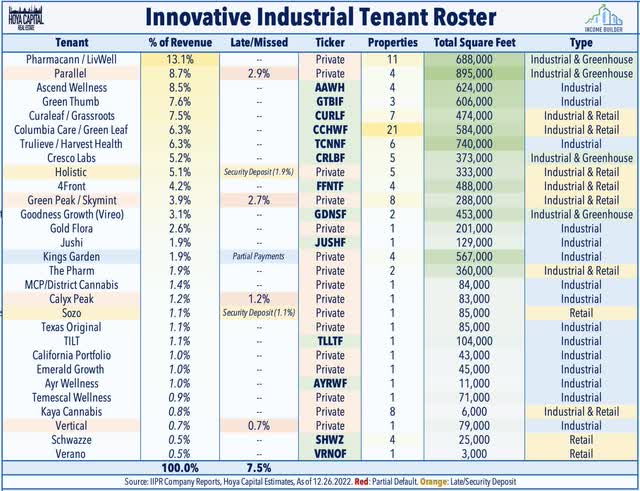 Office: Vornado Realty Trust (VNO) slumped 4.5% on the week after it reduced its quarterly dividend by 29% citing "the current state of the economy and capital markets" and reflective of its "reduced projected 2023 taxable income, primarily due to higher interest expense." Vornado becomes the third office REIT to reduce its dividend in the past month with SL Green (SLG) and Douglas Emmett (DEI) reducing their payouts in December amid mounting questions about post-pandemic office demand. Utilization rates and space per employee were on a downward decline even before the pandemic, and there's mounting evidence that the pandemic simply accelerated the pre-existing trends of increased use of remote work arrangements. We expect a 15-20% decline in office space per employee by the end of 2030 as many corporate tenants in low-utilization markets significantly reduce their footprint in these regions and adopt more formalized "hybrid" work dynamics.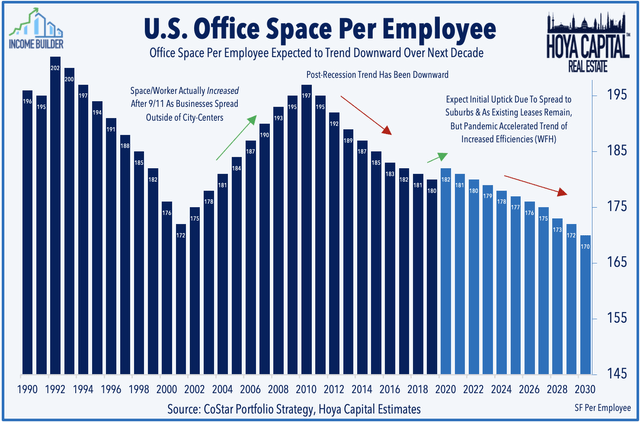 Apartments: Veris Residential (VRE) dipped 5% after it announced after the close yesterday that it will not proceed with a proposed takeover offer from Kushner Companies to buy the REIT at $18.50/share. Veris Residential said that in this instance they are left to conclude that Kushner Companies is "either not serious about consummating a transaction with the company or lacks the financing to execute a transaction with certainty" and it was now left with no choice other than to cease further discussions. Nareit published a report today which recapped the busy year of M&A activity across the REIT sector in 2022. Total REIT merger and acquisition (M&A) activity came to $83.0 billion in 2022, the second-highest annual figure since 2007, with transactions taking place across a range of property sectors. Total public-to-public REIT M&A in 2022 was $69.2 billion – comprising 83% of total REIT M&A activity – with the remaining 17% representing public-to-private deals. Blackstone (BX) was also a major player with deals that included the purchase of four public REITs for its privately-traded BREIT platform.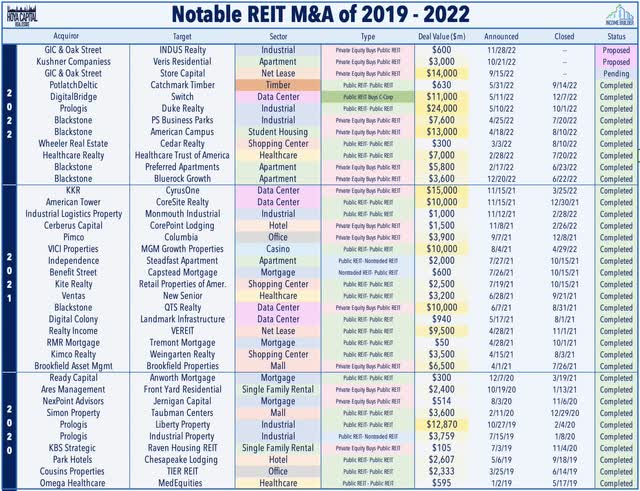 Speaking of non-traded REITs, another asset manager – KKR (KKR) dipped after it announced that it would limit redemptions out of its private real estate fund after it saw requests for redemptions exceed its quarterly limit of 5% of net asset value. KKR Real Estate Select Trust (KREST) – a privately-traded REIT – reported in a filing that it received requests to repurchase 8.1% of its net asset value, exceeding the 5% quarterly limit. The trust fulfilled 62% of each shareholder's request. The redemption limit comes after similar moves from Blackstone and Starwood, moves that spurred queries by the US Securities and Exchange Commission. All three asset managers have faced questions over the self-reported NAV valuations which claimed positive NAV returns in 2022 despite the worst year for publicly-traded REITs since 2008. Non-traded REITs have long been the subject of scrutiny from regulators due to their high fee structure, lack of liquidity, and potential conflicts of interest.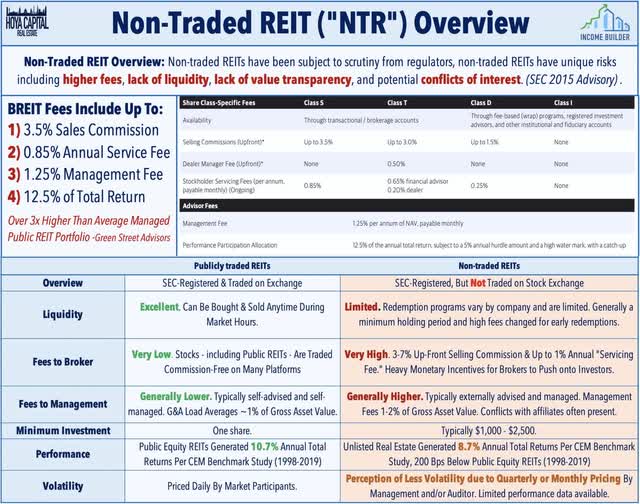 Mortgage REIT Week In Review
Mortgage REITs continued their very strong start to the year amid a broader bid for fixed-income securities with the iShares Mortgage Real Estate Capped ETF (REM) advancing another 0.5% on the week, pushing its year-to-date gains to over 12%. Two Harbors (TWO) gained 2% on the week after it reported preliminary Q4 results, noting that its Book Value Per Share ("BVPS") rose about 8% during the quarter and estimated that its BVPS has increased another 3% thus far in January. Ellington Residential (EARN) gained more than 3% after reporting that its BVPS rose 8% in Q4 to $8.40. Since the start of Q4, property-backed bond valuations have rebounded considerably as the iShares MBS ETF (MBB) – an unlevered index of residential mortgage-backed bonds – has gained nearly 6% since the start of October while the iShares CMBS ETF (CMBS) has gained nearly 4%.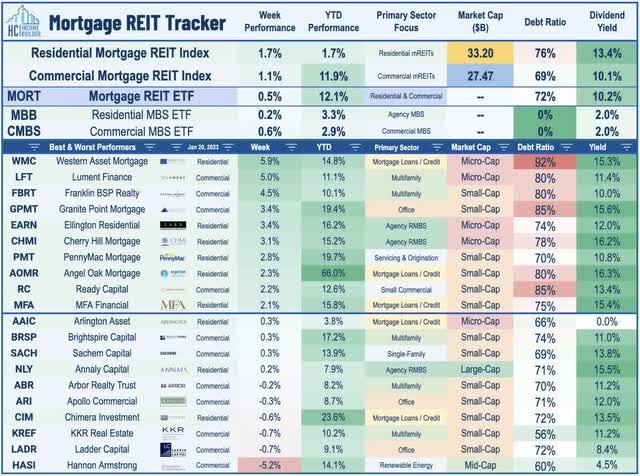 REIT Capital Raising & REIT Preferreds
The strong start to the year continued for preferred securities as well with the REIT Preferred Index (PFFR) gaining another 2.5% – pushing its three-week gains to nearly 10% – while the broader iShares Preferred and Income Securities ETF (PFF) advanced 1.3% on the week. This week, Redwood Trust's (RWT) newly-listed 10.00% Series A Preferred began trading on the NYSE under symbol "RWT PRA." Also this week, Gladstone Land (LAND) announced that it will close its continuous offering of its 5.0% Series E Preferred on January 19. The offering launched on November 9th and LAND – which has two listed preferreds LANDM and LANDO – plans to apply to list the Series E on Nasdaq or another exchange within one year after closing the offering.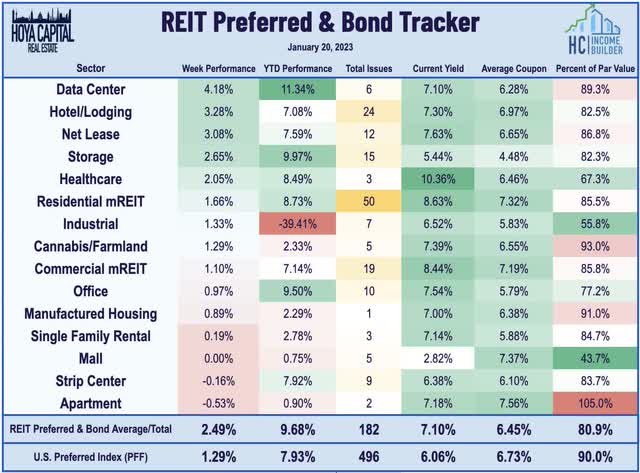 2022 Performance Recap & 2023 Check-Up
Through the first three weeks of 2023, the Equity REIT Index is higher by 6.3% on a price return basis for the year while the Mortgage REIT Index is higher by 12.1%. This compares with the 3.5% gain on the S&P 500 and the 5.3% advance on the S&P Mid-Cap 400. Within the real estate sector, 17-of-18 property sectors are in positive territory on the year led by Healthcare, Industrial, and Hotel REITs. At 3.48%, the 10-Year Treasury Yield has dipped 40 basis points since the start of the year – well below its 2022 highs of 4.30%. The US bond market has rebounded following its worst year in history as the US Aggregate Bond Index has gained 2.9% thus far in 2023.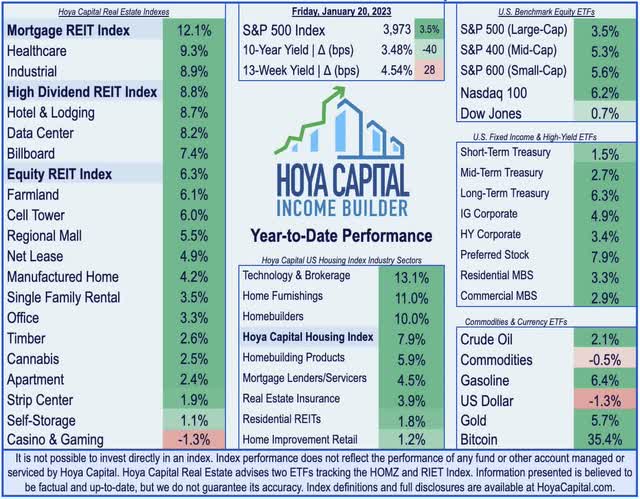 Good riddance, 2022. There were few places to hide across financial markets in a historically brutal year for investors that wiped out nearly a fifth of global financial wealth. The typically-steady US bond market delivered its worst year in history with a loss of 13.01% on the Bloomberg US Aggregate Bond Index, which is over 4x larger than the previous worst year back in 1994 (-2.9%). Closing at 3.88%, the 10-Year Treasury Yield surged 237 basis points from the start of the year. Among the ten major asset classes, Commodities (DJP) were the only segment to see positive inflation-adjusted returns for the year. After leading the charge last year, REITs finished in the basement of the performance tables among the ten major asset classes on a total return basis with declines of roughly 25%.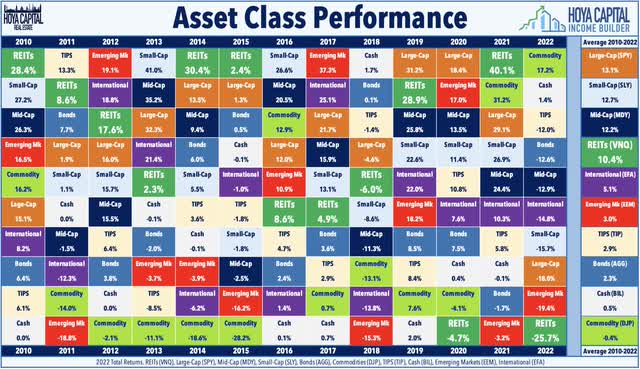 Economic Calendar In The Week Ahead
It'll be another jam-packed week of housing data, inflation reports, and corporate earnings results in the week ahead. The main event of the week comes on Thursday with fourth-quarter Gross Domestic Product data which is expected to show that the U.S. economy expanded at a modest 2.6% annualized rate. The Atlanta Fed's GDPNow model forecasts growth of 3.5% from the prior quarter as the significant drag from residential fixed investment is expected to be offset by a boost from improved personal consumption and higher net exports. On Thursday and Friday, we'll see New Home Sales and Pending Home Sales data for December which are expected to echo the continued slowdown seen in Existing Sales and Housing Starts data this past week. Also on Friday, we'll see another critical inflation report with the Core PCE Index – the Fed's preferred gauge of inflation – which has been one of the early indicators showing signs of peaking price pressures in recent months.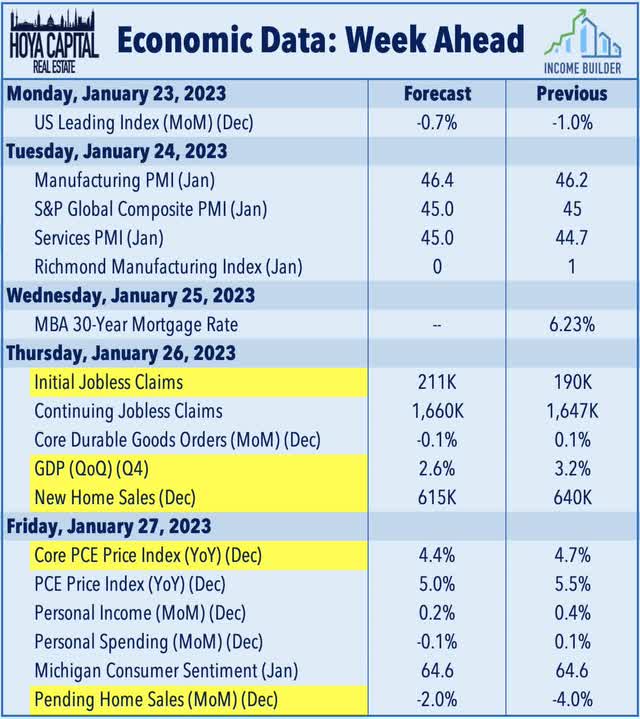 For an in-depth analysis of all real estate sectors, be sure to check out all of our quarterly reports: Apartments, Homebuilders, Manufactured Housing, Student Housing, Single-Family Rentals, Cell Towers, Casinos, Industrial, Data Center, Malls, Healthcare, Net Lease, Shopping Centers, Hotels, Billboards, Office, Farmland, Storage, Timber, Mortgage, and Cannabis.
Disclosure: Hoya Capital Real Estate advises two Exchange-Traded Funds listed on the NYSE. In addition to any long positions listed below, Hoya Capital is long all components in the Hoya Capital Housing 100 Index and in the Hoya Capital High Dividend Yield Index. Index definitions and a complete list of holdings are available on our website.