G1 Therapeutics Stock: Poised For A Turnaround (NASDAQ:GTHX)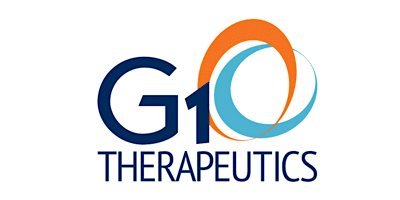 Such a study indicates that the greatest investment reward comes to those who by good luck or good sense find the occasional company that over the years can grow in sales and profits far more than industry as a whole. – Phillip Fisher (Warren Buffett's mentor)
Author's Note: This is an abbreviated version of an article originally published in advance on Jan. 15, inside Integrated BioSci Investing for our members.
In biotech investing, data reporting is the key to the fate of an innovator. As such, it is usually the needle-moving catalyst for your stock. If strongly positive, the stock usually (but not always) rallies to a new height. Otherwise, the stock would nearly tumble upon negative clinical reporting. Keep in mind, the share price is a reflection of market demand which can act illogical to the data results.
As you know, G1 Therapeutics (NASDAQ:GTHX) recently published a negative Phase 2 (PRESERVE 3) data report of the Cosela franchise for bladder cancer. Interestingly, the stock did not crash. After all, there are two more Phase 3 studies to be released later this year. And, that can have a much better chance of success. In this research, I'll feature a fundamental analysis of G1 while focusing on upcoming catalysts.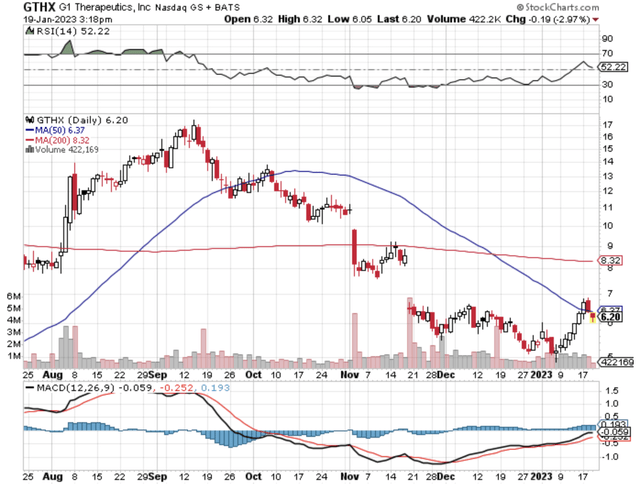 Figure 1: G1 Therapeutics Chart
About The Company
As usual, I'll present a brief corporate overview for new investors. If you're familiar with the firm, I suggest that you skip to the next section. Operating out of the Research Triangle Park, North Carolina, G1 Therapeutics is a commercial-stage company focusing on the innovation and commercialization of next-generation medicines to fulfill the unmet needs in cancers.
As the "crown jewel" of this pipeline, Cosela is already FDA-approved for the treatment of chemotherapy-induced myelosuppression in adult patients with metastatic small-cell lung cancer (mSCLC). In expanding its label, G1 is investigating Cosela as monotherapy and in combination with other drugs for various solid tumors, including colorectal, breast, lung, and bladder cancers.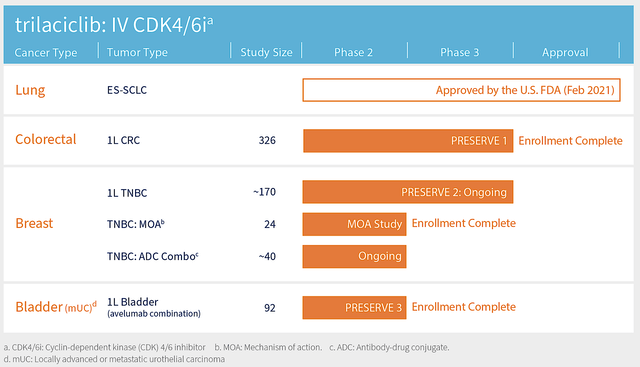 Figure 2: Therapeutic pipeline
Therapeutic Merits of Cosela
As you can appreciate, the conventional treatment for cancer (chemotherapy) certainly works. Else, you'd never use them for patients. Nevertheless, efficacy comes at the high cost of toxicity. By its nature, chemotherapy knocks out cancerous cells along with healthy cells. As such, the toxicity limits chemo's utility and is a huge burden for patients.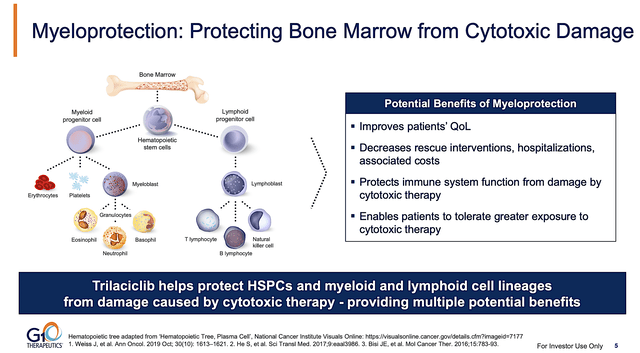 Figure 3: Cosela's therapeutic merits
In delivering hope, Cosela protects those healthy cells in the body from chemo. The most important cells are those of the body's natural defense (i.e., immune) system, needed to fight cancers. By boosting such special cells, Cosela tilts the odds of winning in the battle against cancers.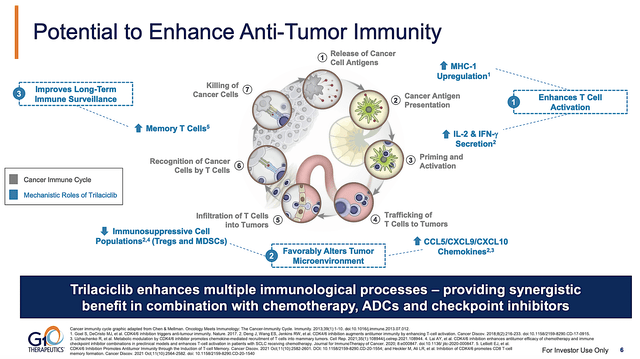 Figure 4: Cosela's ramping immune system
Cosela for SCLC
As you know, Cosela is already approved and launched as a treatment for chemo-causing myelosuppression for small cell lung cancer (i.e., SCLC). Despite small revenue thus far, sales are increasing. Now, you can expect that the most aggressive growth will occur with additional label expansions.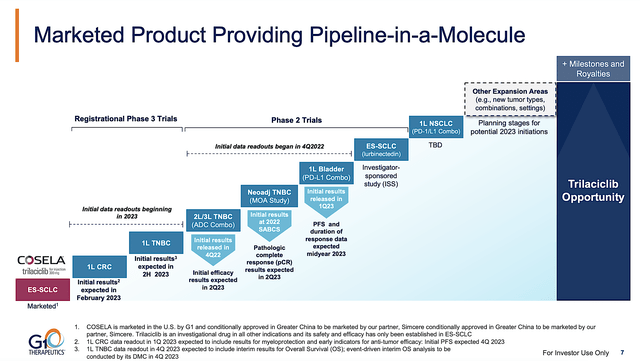 Figure 5: Cosela's label expansions
From the figure below, you can see the expanding label for triple-negative breast cancer (i.e., TNBC) is one of the most promising programs. After all, the ongoing Phase 3 (PRESERVE-2) trial posted robust Overall Survival (i.e., OS). As you can appreciate, the FDA nowadays focuses heavily on OS. By generating positive (improvement in) OS, Cosela is well-positioned for the TNBC label expansion.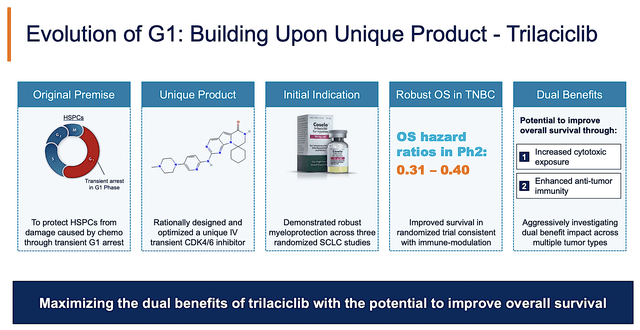 Figure 6: Cosela's highly promising label for TNBC
Cosela for TNBC
Of all the franchises, you can expect that TNBC is quite promising. By its nature, TNBC tumors don't have receptors for estrogen (ER), and progesterone (i.e., PR). They also do not make much of the protein coined HER2. Hence, there aren't many targets for immunotherapy to hit these cells. Consequently, the mainstay treatment of TNBC is heavily reliant on chemotherapy.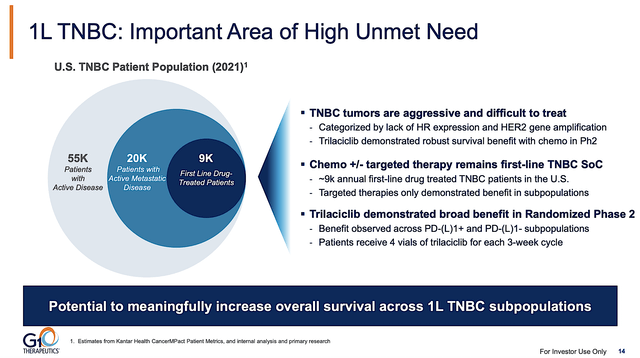 Figure 7: High demand for treatments in TNBC
As you can appreciate, Cosela exerts its therapeutic prowess by improving patient survival for this highly difficult-to-treat condition, TNBC. That made sense because by protecting the crucial cells of the immune system from chemo, Cosela allows the patient's body to fight back against their cancers.
Viewing the figure below, both Groups 2 and 3 (where patients are treated with Cosela) enjoyed a much higher chance of survival over time. Given that the p-value for both cohorts 2 and 3 were all much lower than 0.05, you know that is due to Cosela rather than a random occurrence.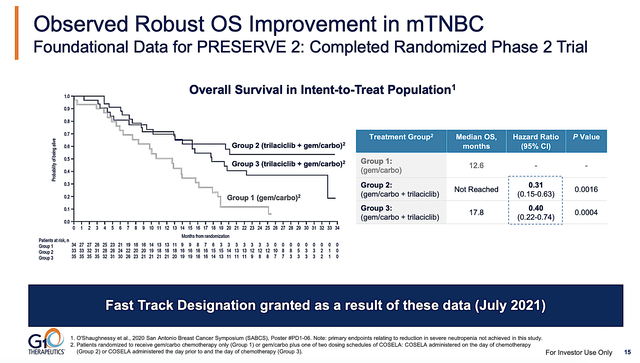 Figure 8: Strong overall survival improvement for Cosela in TNBC
Research estimated that the global breast cancer market is growing at 13.1% CAGR to reach $55.27B by 2027. Of that figure, roughly $1B accounts for TNBC. Since Cosela is positioned to become the 1st line treatment along with Chemo, it should procure significant revenue.
Latest Data Development
Asides from TNBC, you know that G1 is advancing Cosela for bladder cancer. The drug is currently being assessed in Phase 2 (PRESERVE 3) study. Enrollment was completed with 92 patients. The study's primary and secondary endpoints are shown below.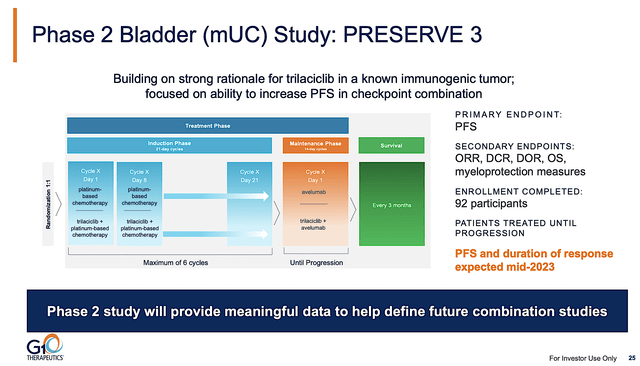 Figure 9: Phase 2 (PRESERVE 3) for bladder cancer
On January 04, G1 reported PRESERVE 3 initial data. As shown below, the objective response rate (i.e., ORR) for both the Cosela treatment and the control were comparable (i.e., 40.0% and 46.7%, respectively). Therefore, you can see that this is not a positive result. Simply put, patients suffering from bladder cancer did not enjoy clinical benefits from Cosela.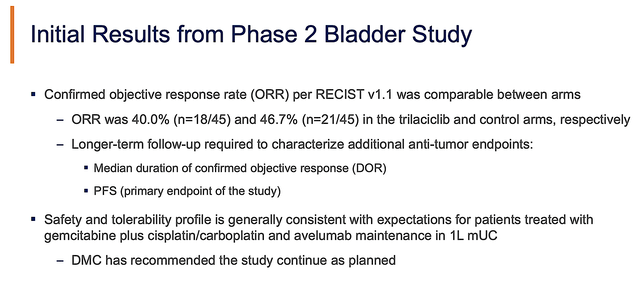 Figure 10: Negative data for Preserve 3
Though G1 will report the primary endpoint data of progression-free survival (i.e., PFS) mid-year, I'm not optimistic about the results. Simply put, if Phase 2 data is not robust, the chances of seeing positive Phase 3 data are slim. Despite that Cosela did not seemingly work for bladder cancer, it is certainly extremely effective for NSCLC and TNBC. That's how cancer drugs are. The same drug will work for one indication while not for another.
Financial Assessment
Just as you would get an annual physical for your well-being, it's important to check the financial health of your stock. For instance, your health is affected by "blood flow" as your stock's viability is dependent on the "cash flow." With that in mind, you should assess the 3Q2022 earnings report for the period that ended on September 30.
As follows, G1 procured $23.5M in revenue compared to $4.8M for the same period a year prior. Of that figure, the product revenues for the respective periods registered at $8.2M and $3.5M. That aside, the research and development (R&D) tallied at $19.5M and $21.1M, respectively. I prefer increasing R&D spending. The money invested today can turn into blockbuster profits tomorrow. After all, you have to plant a tree to enjoy its fruits.
Additionally, there were $25.2M ($0.59 per share) net losses compared to $42.4M ($1.00 per share) net declines for the same comparison. As you can appreciate, the bottom line improvement is related to the lower R&D spending.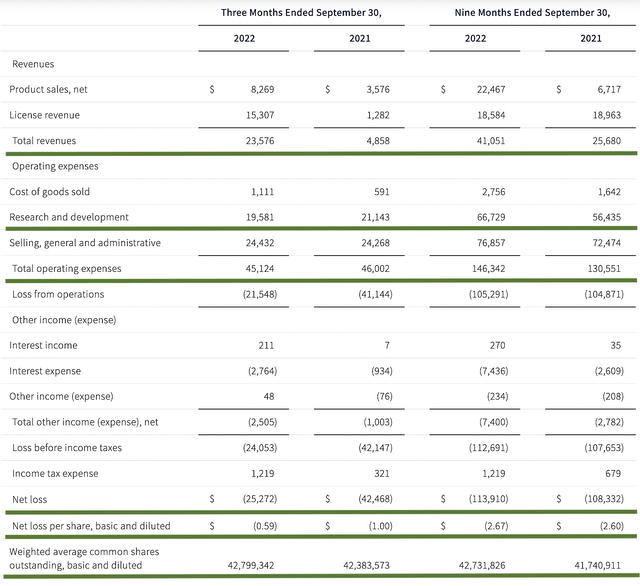 Figure 11: Key financial metrics
About the balance sheet, there were $123.0M in cash, equivalents, and investments. On top of the $50.0M recently raised in an equity offering, the total cash position is increased to $173.0M. On top of the $23.5M quarterly revenue (and against the $45.1M quarterly OpEx), there should be adequate capital to fund operations into 3Q2024. Simply put, the cash position is robust relative to the burn rate.
Potential Risks
Since investment research is an imperfect science, there are always risks associated with your stock regardless of its fundamental strengths. More importantly, the risks are "growth-cycle dependent." At this point in its life cycle, the main concern for G1 is whether Cosela can post positive data for the registration trial, i.e., PRESERVE 1 (for CRC). There is also a risk that PRESERVE 2 (for TNBC) won't deliver positive results. The other concern is whether G1 can quickly boost Cosela sales.
Conclusion
As a speculative play, G1 Therapeutics has tremendous risk. Nevertheless, some of the risks are deleveraged as Cosela is already approved and generating increased sales for SCLC. Though Boehringer dropped its partnership, G1 is able to secure a new partner, Simcere. As you know, Simcere is not nearly as robust as Boehringer. However, it's better to have a partner than none. Though generating modest sales, you can anticipate that Cosela's revenue will ramp up if it can gain future label expansion of first-line indications like TNBC and CRC.