Generac Holdings: Residential EV Charger Strengthens Bull Thesis (NYSE:GNRC)
Thesis
Generac Holdings (NYSE:GNRC) recently introduced its first residential electric vehicle charging system. This charger is intended for home use and is a great way for Generac to diversify and de-risk their product portfolio. Our original thesis has been strengthened and we believe that this EV charger is a compelling reason for investors to continue holding the stock.
Residential EV Charger
Generac unveiled their EV charger in a January 31 press release. The company likely developed this product because they saw a way to meet a growing need, with their director of product management stating:
We've seen an unprecedented rise in demand for electric vehicles in the United States. We're excited to help satisfy this high demand by adding the Generac EV charger to our network of energy technology products.
Consumers that are interested in purchasing a residential EV charger will generally be concerned with charging speed and reliability. Regarding the product specifics Generac states:
The 48A / 11.5kW Generac EV charger is a Level 2 home charger capable of charging a car battery in as little as four to six hours, depending on the car battery's capacity and charge need. The unit's J1772 connector is out-of-the-box compatible with nearly all EVs on the market today, and a NEMA-4 enclosure makes the unit rated for both indoor and outdoor residential installation.
Of note is the out-of-the-box compatibility, as this makes Generac's solution available to most EV owners and does not gate their end-market. One potential concern is the availability of installation capacity. Generac management has articulated issues with the availability of installation capacity for their home generators, and the same availability issue could be present regarding EV charger installations.
While this isn't directly related to the economics of the business, the introduction of an EV charger may increase the appeal of Generac to ESG investors. Investors that are not environmentally focused can still benefit from Generac expanding their clean energy offerings in light of government incentives related to the purchase of EVs and in turn the subsequent increase in demand for home EV chargers.
As electric vehicles continue to be adopted, the demand for residential charging solutions will likely increase as well. The introduction of this charger is a great way for Generac to expand their product portfolio.
Diversifies and De-Risks Product Portfolio
The main benefit to Generac from a business perspective is the diversification and de-risking of their product portfolio. When a company is heavily concentrated in one segment their business results can be more volatile and are exposed to the risk that sales in their main market decline (such as Generac's reliance on the home generator market). By expanding their product portfolio, Generac can begin to smooth out operating volatility and reduce the potential business risk of home generators becoming less popular in the future. They will also be able to capitalize on the potential for EV adoption to increase over the long term and subsequently generate additional revenue.
Price Action and Valuation
Generac had a massive decline in 2022 but has started off strong in 2023 with a 21.63% YTD return. We believe that the selloff in 2022 was overdone and that shares look attractive at these levels, as long as an investor understands that Generac is currently a cyclical business and could see a prolonged period of disappointing home generator sales.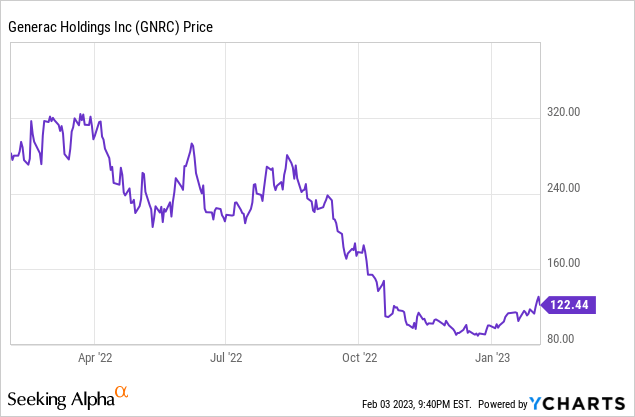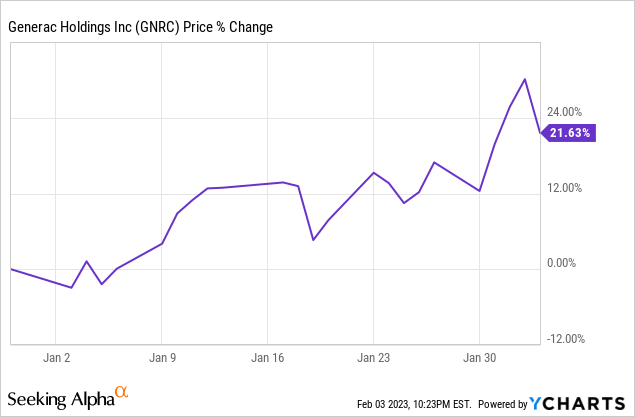 Risks
The key risk to this thesis is that Generac's EV chargers may be less effective than anticipated, resulting in customers choosing to purchase from a competitor. This is a new market for Generac, and it remains to be seen if they can execute as well as they have in the home generator market. From our point of view the expansion of their product portfolio serves to reduce the overall risk of the company and in a sense "future proof" their business in case home generator sales fall off over the coming decade, and the execution risk is worth the reward.
We believe the risk/reward is attractive as long as their EV chargers can remain competitive with other available options, and that there is sufficiently available installation capacity.
Key Takeaway
The addition of a residential EV charger to Generac's product portfolio serves to diversify and de-risk their business and further strengthens the bull case for the company. We believe that investors can continue to comfortably hold the shares at these levels.