Group 1 Automotive Stock: Industry Leader Continues Outperforming
Group 1 Automotive (NYSE:GPI) is a leading operator in the automotive retail industry. The company is geographically disbursed throughout the U.S. and has operations across 35 towns in the U.K.
Through their omni-channel platform, the company sells new and used cars and light trucks. In addition, they arrange related vehicle financing, sell service and insurance contracts, and provide other automotive maintenance and repair services.
At present, the sale of vehicles represents about 83% of their total revenues, with 52% of that attributable to new vehicles. This business, however, tends to operate on thinner margins. To compensate for this, the company earns 45% of their total gross profit through parts & service.
Fresh off their Q4 earnings release, shares are trading near new 52-week highs. And over the past year, the stock has been an outperformer, up 12%. This is in stark contrast to broader markets, who are still nursing losses incurred in 2022.

Despite their recent run-up, shares still have further to run in 2023. The proven success of their digital platform has enabled the company to source more inventory outside of public auctions and has connected them with new customers, in addition to improving the level of interaction with their existing ones. This has fed into robust performance in their higher margin aftersales segment. At just 4x forward earnings, shares are presently discounted to historical averages despite stronger present day operating performance. For investors seeking new ideas, GPI is one worth keeping an eye on in future periods.
Q4FY22 Earnings Recap
In the final quarter of 2022, GPI's total quarterly revenues were up 16.6% from the same period last year. Impressive and noteworthy, though this does represent a slowdown from Q3's record 22% growth.
And this moderation was evident in all revenue segments, with no single sales category posting more than 20% growth, unlike prior periods. The comps in wholesale, however, were more favorable. In the current quarter, the YOY decline was just 2.3% versus 15.5% in the quarter prior.

Sales of new vehicles remained consistent with prior years in terms of geographic and brand mix. At period end, Toyota/Lexus and the German automakers, BMW, Volkswagen, Audi, etc., represented 54.7% of their new sales mix. This compares to 50.8% last year and 54.2% last quarter.
Inventory balances were also higher on greater supply levels. In the quarter, the company had 24 days of supply of new inventory. This is up from 12 days of new supply last year and 16 days last quarter. However, their supply of used vehicles, which held at 34 days, remained consistent with the prior quarter and is down from the 42 days last year.

The greater new supply also coincided with a decline in total units sold during the period. Though total unit sales were up 15.5% YOY, they were down about 9% on a sequential basis. Perhaps not surprisingly, average prices were up.
The higher prices, however, were limited to new vehicles. At $49.4K, average new vehicle prices were up about 3% from the prior quarter. But used prices were essentially flat for the period. This, however, did not result in increased sequential sales, as total used units sold actually declined during the quarter.
At the margins, GPI reported 7% quarterly growth in gross profit, with margins holding just shy of 18%. This is down both YOY and sequentially. But for the year, margins still held at around 18%, which is comparable to last year, despite the significantly higher cost environment.
And at year end, the balance sheet remained healthy. Current liquidity stands at about +$650M. This is on top of strong reoccurring operating cash flows, which in the current year amount to +$916M. And of that, the company had +$803M in free cash flow.
The significant cash position has enabled continued repurchasing activity through the year. All total, they've now reduced their share count by over 22% over the last fifteen months.
Post-Earnings Insights
GPI turned in an outstanding year in fiscal 2022. This was marked with record revenues, gross profit, and diluted earnings per common share from continuing operations. Leading the way forward was aftersales, which continued growing at double-digit rates following a stellar year in 2021. Current momentum in this market is likely to remain a strength into 2023.
In addition, the company sold a record number of units approximating 15% of their total U.S. retail sales through their AcceleRide Digital Platform in the current quarter. All considered, over 75% of their customers used the platform in their transactions in some way during Q4. This is up from under 50% in the middle of 2021.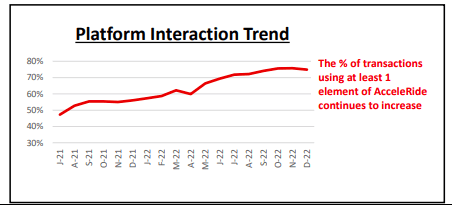 The proven validity of the platform is important since it allows the company to reach more customers, and it also drives loyalty after the sale. Their customer retention metrics, for example, are 15% higher on AcceleRide deals than on non-AcceleRide. This ultimately then feeds into strength in other areas of their business, such as aftersales.
The increased level of interaction between GPI and their customers through the platform also enables GPI to bypass public auctions in their sourcing efforts. This provides greater control to GPI in managing inventory levels and costs. And on that front, GPI has sourced over 10K vehicles through the platform.
Sourcing inventory, nevertheless, continues to pose challenges in some respects. Import brands, for example, are still constrained. Supply of new vehicles in inventory did increase 6 days sequentially, but this was due primarily from their domestic brands. The Toyota/Lexus brands, on the other hand, which represents 30% of their U.S. business remained tight at a combined supply of just 4 days.
In addition to lingering challenges in sourcing inventory, GPI also experienced further declines in used vehicle pricing, which pressured margins during the quarter. Though this was offset in some respects from an increase in same-store used unit sales.
The inflationary environment also contributed to margin pressure. Yet, despite challenging conditions, the company effectively controlled their total burden. In Q4, adjusted SG&A as a percentage of gross profit was 61%, which is just 100 basis points above 2021 levels. And compared to pre-pandemic levels, this is down significantly from the 71% rate incurred during that prior period.
Though shares are trading at the top-end of their 52-week range, they are still fetching a discounted pricing multiple. Their current forward earnings multiple, for example, is just 4.2x. This is below their five-year average of about 7x. In addition, their total enterprise value is just under 5x EBITDA, well below their historical average of 9x.
While it's true the past can't justify the future, GPI's operating results are stronger today than they were previously. And the headway they've made in their digital platform is a key growth driver that should increase volumes in future periods. Current Wall Street estimates peg shares at a fair value of $255/share. This would represent upside of about 30% from current levels. Though that may sound like a stretch in the current environment, it is attainable.
Perhaps a pause on new initiation until there is a pullback may be the best course of action for some investors. Others, however, may find it more opportune to enter in the present. At any rate, GPI is one stock that is worth continued attention in the periods ahead.