Ivanhoe Electric Looks For Home Run With Saudi Exploration JV (NYSE:IE)
Macroeconomic Overview
Electric is a standard buzzword in investing presently. As if building a company enshrined in green credentials to appease feel good finance money managers with big ESG mandates sufficed to create value, the number of buzzword organizations has been appearing left, right, and center.
It makes for increasingly difficult analysis insofar as genuine organizations do exist looking to capitalize on green energy's ascendency. Problem is, there are a handful of fakes out there. Is Ivanhoe Electric (NYSE:IE) possibly one?
Whatever the case may be, battery minerals are a hit – from lithium, copper, cobalt, graphite, and nickel, managing a book of mining securities has squarely focused on these minerals.
Forget gold (maybe not) or possibly silver, the real deal appears to be battery minerals, rare earths and other resources finding use in the sustainability drive.
That's exactly the story of Ivanhoe Electric – Canadian billionaire Robert Friedland's new venture focusing on proprietary exploration technology to improve exploration efforts to identify new mineral resources. The company focuses solidly on "electric metals" specifically in the United States. Besides, who would want to explore for coal, right?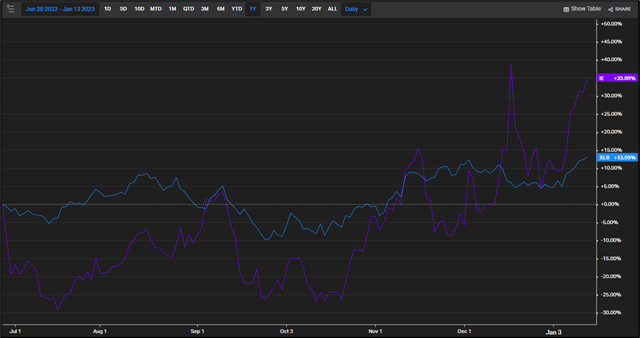 Ivanhoe Electric has outperformed the Select Sector SPDR Basic Materials (XLB) – +35% v +13% over 12 months.
Company Overview
Ivanhoe Electric Inc. is a crusading mineral and exploration gig based in the United States. Its prime focus is capitalizing on money managers' insatiable appetite for green investments supporting changes in global energy consumption.
The company retains an 85% interest in the Tintic copper-gold project in Utah, options to acquire full ownership in the Arizona-based Santa Cruz copper project and a 75% holding in the Hog Heaven silver-gold-copper play in Montana. Additionally, the venture is prospecting Ivory Coast as an apt stomping ground for future battery mineral projects.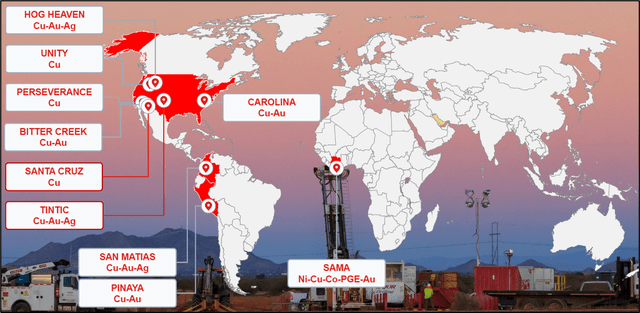 The firm is ambitiously prospecting developments with a focus on North and Latin America.
The Vancouver, Canada based firm was established in 2020 and operates as a subsidiary of I-Pulse Inc. Furthermore, the company specializes in data analytics, geophysical modelling dedicated to mineral discoveries, oil & gas leases while also manufacturing vanadium flow batteries for grid scale energy storage. Consider the firm the all-things-electric of the natural resources industry.

The company is looking to exploit 3 niches – mineral exploration technology, mineral developments, and energy storage.
A charismatic founder
Both I-Pulse Inc and Ivanhoe Electric share the same visionary founder. Robert Friedland has been an international financier, entrepreneur and venture capitalist for some 25 years.
He founded the coveted Turquoise Hill Resources at the heart of Mongolia's prolific Oyu Tolgoi copper play which has since become a US $3.3B target acquisition for Rio Tinto.
Mr. Friedland was also the brains behind Ivanhoe Mines, a copper focused miner looking at developing huge projects in Africa along with co-chairing Clean TeQ, an Australia listed company providing innovative and sustainable solutions for metals recovery and water treatment.
Positively, it appears that Mr. Friedland had learnt from past experiences at Galactic Resources Ltd. Its ill-fated Summitville gold mine in Colorado created furore when the relatively new mining technology of heap leaching was used at the time.
A sodium cyanide solution ultimately spilled form the mine as the heap-leach liner collapsed, carrying with it cyanide and other heavy metals into the Alamosa River wreaking havoc with the environment. The $125M in clean-up costs ultimately led to Galactic Resources demise. The irony now that Ivanhoe Electric is focused on sustainability. There is no doubting that Mr. Friedland is a brilliant entrepreneur. Even better than that, he may be possibly an ingenious marketer.
An interesting Saudi Arabian JV with Ma'aden
The battery minerals boom appears to have also attracted Saudi backers. A recent agreement struck on 11 January 2023 will see Saudi Arabian Mining Company Ma'aden team up in perhaps the largest multi-commodity mining and metals deal in the Middle East.
It makes for saucy reading, 10.2M of Ivanhoe Electric shares issued at a purchase price of $12.38 raking in proceeds North of $125M. $66M will go into the JV company with approximately $60M deployed to advance US mineral projects.
The subsequent ~10% ownership that Ma'aden will retain in Ivanhoe Electric will allow the firm to nominate one independent director. Also, Ma'aden has agreed to a 5-year ceasefire preventing it from increasing ownership above ~20% without approval from the board of directors.
The JV company will be founded under Saudi law and hunt for battery minerals in 48,500 km2 of land made available by Ma'aden. The Saudi JV will also agree to purchase 3 new generation Typhoon units from Ivanhoe Electric's parent, I-Pulse, the first of which is expected to be delivered in Q1, 2024 and have a sticker price of $13M (!) That's sizable given revenues generated by Ivanhoe Electric were $4.7M in FY 2021 and $8.7M over last 12 months.
Key Financials
Not a lot in the way of financials save to say that Ivanhoe Electric is growing. The US $1.36B metals and mining venture registered revenues of $4.6M (FY20), $4.7M (FY21), and $8.7M over last 12 months.
This young operation has however been haemorrhaging operating income with mammoth losses over the same period (-$26.6M FY20, -$60.7M in FY21, and -$110.8M over last year).
Selling, general and administration expenses are responsible for the damage, accelerating from $25M in FY20 to $113M over last 12 months. Net income has been blown out of the water with -$136M hole put in the company's income statement over a one-year period.
Luckily, the balance sheet is beefy. The $177M in cash & marketable securities should keep the wolves from the door, at least until the Saudi money starts rolling in.
No big debt, just $25M on the long-term portion of liabilities is indicative of how reliant the company has been on share issuances. Share issuances have been the underpinning modus operandi for the company to raise capital.
It issued $30M in FY20, an additional $30M in FY21 and $159M over the last 12 month. It would appear the equity risk premium is lower than cost of debt – either that or lofty interest rates have deterred the company's managers from credit markets.
The company trades at an eye-watering 209x next year's sales. It's lofty to say the least – 5.6x book values are on the high side also. Is this a mining company or a technology company? Surely, some spin will be put on relative valuation. Saudi cash could not come sooner as operating expenses outstrip paltry sales numbers thus far.
Risk Factors
There is big risk in building a position in Ivanhoe Electric. While Mr. Friedland's track record could appease some money managers, the reality is along with success, the bumpy road of entrepreneurship is sewn with failures. None other is more remarkable than Galactic Resources some 30 years ago which culminated in an environmental calamity.
That perhaps opened his eyes to the value of sustainability. Saudi money and exploration of the vast Arabic peninsula is a huge plus but how the JV fares is a way away. Besides, with Typhoon exploration units not available until 2024, it may be some time until new Arabic battery mineral plays are identified.
Stock issuances and dilution seem to be a factor for this company which prefers to avoid credit markets to raise funds. This too is something worth keeping an eye on.
Key Takeaways
Ivanhoe Electric is perhaps a speculative wager at best. It presents the advantage of backing a visionary entrepreneur with a tidy CV (Oyu Tolgoi was a mammoth home run) but also some past busts.
Sales revenues do not appear compelling enough to justify multiples and while there is some possible upside with the Ma'aden deal, my preference is to stay on the sidelines rather than dive knee-deep in this risky battery metals and mining player.