Luminar Technologies: Leader In LiDAR, Autonomous Tech (NASDAQ:LAZR)
Thesis
Luminar Technologies, Inc. (NASDAQ:LAZR) is one of the LiDAR companies with numerous wins ranging from traditional OEMs, including Volvo and Nissan, to nontraditional OEMs, including pony.ai, as well as non-Auto OEMs like Airbus (OTCPK:EADSF). The focus on L3+ autonomous functionalities allows Luminar to engage with multiple customers, with plans to potentially drive a higher level of ADAS functionalities to be at least standard on vehicles, which materially increases the revenue opportunities for LiDAR if OEM customers follow through on their promises of 100% LiDAR hardware adoption and less than 100% adoption of software that enables the L3+ autonomous functionality.

Why do I like LAZR?
Differentiated and custom approach evident in a strong patent portfolio
Luminar's long history in development is evidenced in the robust patent portfolio, which, as of January 2021, stood at 172 patents. The patent portfolio covers both systems and components, including LiDAR system, scanner, receiver, and perception technology. While the patent portfolio is not really an indicator of commercial success, I do believe the robust patent portfolio indicates robust engineering prowess.
Volvo, the OEM considered the leader in Safety, is a key partner and customer
Luminar has, over a short period of time, announced several significant partnerships with OEMs as well as automotive Tier 1 suppliers to set the company up for a stronger ramp in revenue relative to other LiDAR suppliers. The earliest and one of the most significant wins included entering into a production contract with Volvo to deliver LiDAR products for the SPA2 platform, on which future consumer vehicles will be based. The Volvo win is focused on highway autonomy and will be offered as an option for consumers to purchase. Series production is expected to start this year (2022). While highway autonomy is going to be an option, Volvo will equip the SPA2 platform with a proactive safety system as a standard that will leverage Luminar's LiDAR, although not all of the software stack capabilities that Luminar can offer. The agreement is a 15-year agreement, unless otherwise terminated before that by either party.
Partnership with Mercedes-Benz provides further validation of the technology
Luminar's partnership with Mercedes-Benz is aimed at accelerating the development of automated driving capabilities for the Mercedes passenger cars. Iris LiDAR, which is currently being prepared for series production, will help enhance safety and autonomous driving capabilities of the passenger cars of Mercedes. Mercedes' strong reputation for quality and durability helps provide further validation of Luminar's technology.
Focus on OEMs willing to drive standardization of L2+ functionalities with L3 options is leading to high revenue expectation exiting the decade
Luminar uses custom components in its LiDAR design to provide a differentiated performance, which also implies a premium bill-of-materials relative to 905 nm-based solutions. As a consequence, Luminar appears to have kept its focus on the appropriate platforms for its technology solution – automakers looking for platforms that can progress to highway autonomy in time. The focus on platforms prioritizing safety for consumers is leading to the tailwind of some of the automakers willing to make LiDAR-based L2 functionalities standard on the system, even as L3+ functionalities are offered as an option.
Software Opportunity for Luminar
Luminar is closely partnered with Zenseact, a Volvo subsidiary, for software development
Luminar is partnered with Zenseact, a newly 550-person team developing software stack for ADAS and autonomous vehicle solutions. Together the companies are developing a new product suite, Sentinel, that targets being the first full-stack autonomous solution for series production, by integrating Zenseact's Onepilot autonomous driving software with Luminar's perception software. The integrated software stack is expected to enable automakers to deliver advanced ADAS functionalities as well as highway autonomy on series production vehicles.
Software TAM could be the differentiator for the company relative to peers
Luminar is one of the few companies with a full stack software solution, and it should see contributions from Zenseact and Luminar over time. More importantly, once the full stack solution is available and deployed on a Volvo series production vehicle, Luminar will have the option to leverage the solution with other automakers (paying Zenseact a licensing fee for the use) that otherwise might not have the financial wherewithal or the scale to invest in their own solution. The software will encompass computer vision to a decision & control layer following sensor fusion. The goal of the full stack solution remains to enable highway autonomy for consumer vehicles as well support the drivers (i.e., driver assist) in other conditions. The peer group has been focused on the LiDAR solution including hardware as well as software primarily object detection and classification based on leverage of the point cloud collected from the LiDAR. However, most of the peer group wants to allow the OEM to own the other layers of the software stack without exploring the entirety of the software total addressable market ("TAM") associated with autonomous vehicles.
Financial Outlook: Strong Growth Outlook on Combination of Hardware and Software
Fast out of the gate with series production ramp expected in 2023
Luminar Technologies, Inc. stands out relative to other LiDAR companies in relation to momentum of customer wins and engagement, and that has led the company to land one of the series production platforms meant for a relatively early launch compared to plans from other OEMs. While the win from Luminar with Volvo on the next generation XC90 platform meant to start series production in 2023 does not match the volume implications of Cepton's (CPTN) win with General Motors (GM) given the relative size of the OEMs, the ramp with Volvo in a series production earlier than peers, backed up by several other volume production wins, should enable Luminar to ramp quickly out of the gate.
Luminar has refrained from outlining too many long-term targets, but management has spoken about the realistic path to $5 billion of revenue and $2.5 billion of EBITDA by 2030. I am forecasting Luminar to outperform relative to its prior revenue targets on account of the solid momentum of wins in recent years.
Gross margins to break through typical hardware technology levels with the ramp in software revenue
In contrast to other hardware technology, Luminar has the opportunity to expand gross margins beyond the typical ceiling for hardware technology companies, led by an increasing mix of software revenue as autonomous capabilities towards the end of the decade become increasingly driven by software advancement while hardware configuration becomes increasingly standardized.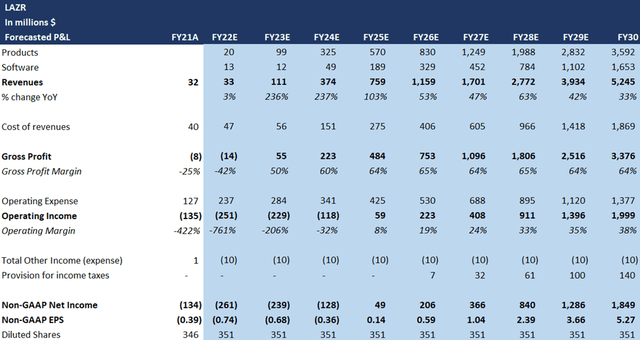 I expect gross margins to expand over time, firstly eclipsing 50% levels led by the scaling of hardware volumes and leverage of fixed overhead but continuing to move higher as software / Sentinel adoption increases.
Don't expect a need for additional capital raises till the company turns free cash flow positive in 2024, but does not necessarily preclude one
Following the convertible bond offering at the end of 2021, I believe Luminar has enough liquidity on the balance sheet to ramp hardware production while investing in advancing technology progress in both hardware and software, without the need for additional capital raises. LAZR ended last quarter with $553.1 million in cash balances. Given the historical cash burn rate, Luminar has enough liquidity to tide over cash outflows of through 2024, in my view.
Valuation – Strong Technology Roadmap Likely to Drive Premium Multiples Relative to Peer Group
While still in early phases of adoption, I prefer to value LiDAR companies at the long-term profile at 2030, when the industry is expected to demonstrate more normalized metrics of profitability and top-line growth in the 20% range. I expect Luminar's strong technology roadmap beyond hardware extending to software and to higher levels in the software stack to drive investors to attribute premium multiples to it relative to the peer group. I keep a long-term target price of $46.4 on the stock based on 2030E EV/Revenue multiple of 2x.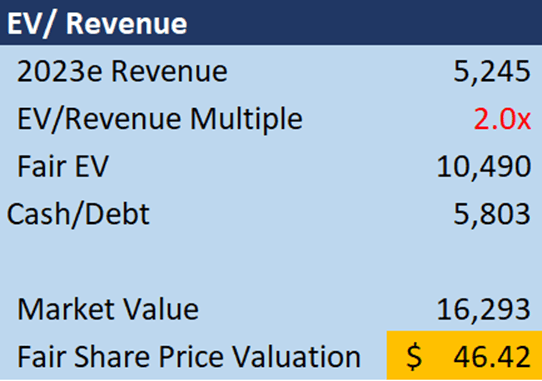 Risks
Challenges in driving penetration of l3 autonomous driving systems based on LiDARs
I expect most OEMs to initially sell LiDAR-equipped vehicles, i.e., L3 autonomous functionality, as an additional option available for purchase to consumers relative to standard. Lower-than-expected ramp in the adoption of L3-equipped vehicles could result in more moderate revenue for LiDAR companies than anticipated.
Limited reliance on LiDAR companies for higher levels of autonomous software stack
In addition to a leading position in LiDAR hardware sensing, I believe Luminar's software revenue opportunities (and associated software margin opportunity) are key to the bull case on the shares. However, OEMs could be more hesitant to adopt the higher levels of the software stack beyond perception software from LiDAR companies, limiting the opportunity for Luminar despite having the capabilities.
Final Thoughts
I believe Luminar Technologies, Inc. has significantly higher opportunities for revenue growth compared to LiDAR peers, given the number of wins with OEMs (traditional and non-traditional), and also has opportunities to grow around software. I think that Luminar is focused on L3+ applications and that the majority of engagements will be of a long-term nature, with customers seeking to collaborate with the firm through numerous generations of L3+ autonomous systems over the next few years. I keep a long-term target price of $46.4 on Luminar Technologies, Inc. stock based on 2030E EV/Revenue multiple of 2x.
Editor's Note: This article discusses one or more securities that do not trade on a major U.S. exchange. Please be aware of the risks associated with these stocks.