MSCI Q4 Earnings: Still A Good Investment For Long-Term Returns
Overview
Following 4Q22 earnings, I believe it is best to hold long positions despite possible short-term weakness (position sizing is important here). With dominant products in the lucrative index data field and the new ESG information industry, MSCI (NYSE:MSCI) is, in my opinion, a proven high-growth compounder. The firm is widely regarded as the industry standard when it comes to constructing and maintaining international equity indices and serving as a benchmark for those indices. To top it all off, they are the industry standard when it comes to ESG indices, data, and research.
Revenue and EPS for MSCI's fourth quarter were both higher than expected, contributing to the firm's overall healthy results. I believe that the low double-digit growth in subscription run rate is a reflection of the advantages provided by MSCI's recurring revenue streams and the secular tailwinds provided by the increasing complexities of portfolio construction. More importantly, I think the company is doing a good job of maintaining growth and innovation investments while also implementing cost-cutting measures from their downturn playbook. However, the Analytics retention rate dropping and the ESG revenue growth slowing from the previous quarters are both early warning signs that MSCI's subscription revenues may be softening. Also, the asset-based fees that make up 22% of MSCI's total run rate fell by double digits. As such, it is crucial to correctly size the position so that one can increase its size if MSCI were to fall.
Earnings update
The 4.8% growth in revenue (6.8% organically) to $576.2 million was better than the 3.4% growth expected by consensus. The organic growth rate for Index revenues was 0.4%, while the growth rate for Analytics revenues was 9.5%. Both ESG & Climate and Private Assets saw impressive organic growth, with the former showing a 43.0% increase and the latter a 13.8% increase. Total subscriptions increased by 11.9%, while asset-based fees decreased by 12.7% in run rate. As a result of implementing the downturn playbook and realizing operating leverage, EBITDA margins increased by 80 basis points to 58.8%. The $2.84 EPS was higher than the expected $2.76.
The good
Given that MSCI's subscription run rate revenue (which accounts for 78% of total) grew by 12% in 4Q, it is safe to say that the company has proven its resilience in the face of a challenging macro environment. This, I believe, is a reflection of MSCI's enduring business model and the secular tailwinds associated with the growing difficulty of portfolio management. That said, I wouldn't want to draw any firm conclusions about the future from the current strong performance. The buy-demand side's for portfolio construction and evaluation tools has been steady as measured by the subscription run rate, but this may change if market volatility persists into the foreseeable future. Management did note that prolonged market declines (several quarters) tend to result in longer sales cycles and increased cancellations due to fund closures, mergers, and staff reductions.
Additionally noteworthy is the fact that organic subscription revenue growth in the Index segment reached 12% year over year due to investor demand for custom indices, and that organic revenue growth in ESG & Climate remained at 40%+ year over year due to strong adoption of Climate solutions. Additionally, MSCI retention rates remained at very healthy levels, at 93%, albeit with a slight decrease from 4Q21's 94.4%. Moreover, futures and options volatility-related revenues, which accounted for 29% of MSCI's total revenue in 4Q22 thanks to an increase of 31.5 million contracts traded, provided a partial hedge for the company's asset-based fees.
MSCI is implementing cost-cutting measures from its "downturn playbook" in response to the current macroeconomic climate. Such cuts include measures such as halting new hires, cutting back on professional fees, cutting back on travel costs, and reevaluating incentive pay. All of these, in my opinion, would help MSCI meet its long-term goal of high EBITDA margins this year (FY23). The money saved through this strategy can then be reinvested by management into the company for growth in the future. As a matter of fact, in 2023 MSCI intends to increase its investment spending, more than doubling its overall expense growth, to pursue growth opportunities. Nonetheless, management is cognizant of the market situation and would cut investment spending in a severe or prolonged market downturn.
The bad
Next, the parts that left me feeling less than thrilled. As AUM dropped during the quarter, so did the asset-based fee run rate. Given the continuing near-term market uncertainty, I expect this decline to continue. The fourth quarter's 5% run rate growth in Analytics was comparatively slow, and also the retention rate fell to 90.0% from 93.4% in the prior year's fourth quarter due to large client cancellations. Additionally, the growth of ESG revenue has slowed in recent quarters due to challenges posed by the current economic environment, longer sales processes, and a lack of big deals, indicating that the company is susceptible to macroeconomic factors.
Partnership with Google and Microsoft
Data ingestion is at the heart of MSCI and Google's (GOOG)(GOOGL) new cloud partnership. The partnership was conceived by upper management as a supplement to, rather than a replacement for, Microsoft (MSFT) Azure in powering the company's technological enablement. According to my research, MSCI uses Azure for supporting data processing and product development, Google Cloud to aid in data collection and the creation of new data sets, and Snowflake (SNOW) to aid in the efficient distribution of content to clients. Therefore, I consider this new partnership to be an exercise in "diversification" and a means of improving the entire technology stack.
The guidance
MSCI has released guidance for FY23 operating expenses in the range of $1.09–1.130 billion, EBITDA expenses in the range of $965–$995 million, and FCF in the range of $1.06–$1.12 billion. The company's initial 2023 outlook indicates impressive operating leverage, even though MSCI does not provide guidance on revenue, adjusted EBITDA, or adj. EPS. Given that in FY22, subscriptions accounted for 74% of MSCI's total revenue. Under the assumption that subscription revenue grows at the same rates as it has this quarter in 2023, all else being equal, this would imply a growth of near 10% in FY23, which is higher than the guided expenses growth.
Valuation
I believe MSCI is worth ~$700/share based on my model and consensus figures. The growth expectation here is relatively stable given the nature of the business. However, I expect margins to expand gradually as MSCI benefit from operating leverage and scale. Also given the high quality nature of this business, I believe the relatively high valuation, on an absolute basis, is justified.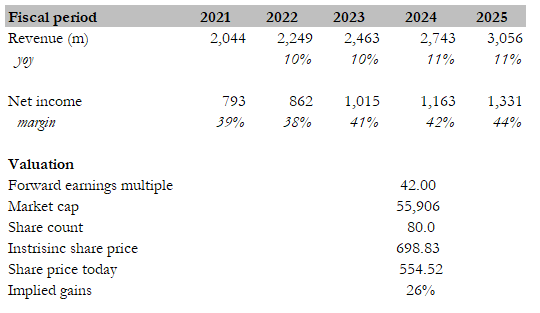 Risk
Dependent on equity market
A decline in equity markets has a negative effect on MSCI's bottom line. The impact on EBITDA, EPS, and free cash flow is exacerbated because these fees are incurred by the company's Index division, which has margins of 75% or more. MSCI has a plan in place to deal with market downturns, including both automatic and proactive measures. But the MSCI stock reacts positively (when equity markets are high) and negatively (when they are low). I expect strong inflows into international equities and ESG funds to contribute to the MSCI stock's outperformance.
Conclusion
I believe that despite short-term weakness, it is best to hold long positions in MSCI due to its dominant products in the index data and ESG information industries, which are seen as high-growth opportunities. The firm's 4Q22 earnings showed higher-than-expected revenue and EPS, but early warning signs of softening subscription revenues and declining asset-based fees may indicate a slowdown. I would suggest being cautious with position sizing to take advantage of potential price drops.