Nasdaq Q4 Earnings: Limited Upside Potential (NASDAQ:NDAQ)
Investment Thesis
Many people are familiar with the Nasdaq 100 index but may not know much about Nasdaq (NASDAQ:NDAQ), the company behind the index.
Nasdaq has been a reliant compounder in the past decade, with shares up over 500% during the period, easily outpacing most indexes. This is largely driven by the significant increase in popularity of both tech companies and their index. While the company has grown a lot, its TAM (total addressable market) remains huge and the current penetration rate is still very low. It also sees strong growth opportunities in emerging segments outside of the index like Anti-Financial Crime.
The company recently reported its Q4 earnings and missed both the top and bottom line due to macro headwinds. Its current valuation is also not cheap on both a historical and relative basis, which leaves it with limited potential upside. Therefore, I rate Nasdaq as a hold at the current price.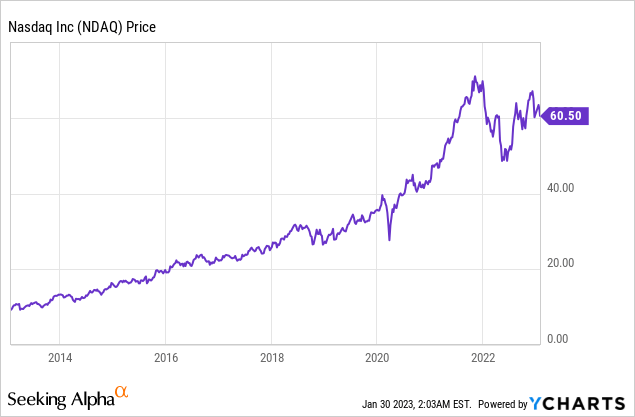 Growth Opportunities
Nasdaq is divided into three segments: Market Platforms, Capital Access Platforms (including Index and Workflow & Insights), and Anti-Financial Crime. I believe Anti-Financial Crime is a strong growth driver that investors often overlooked. It currently only accounts for a small portion of total revenue but growth rates have been impressive. The segment offers SaaS solutions for fraud detection, anti-money laundering, and surveillance to customers like Tier-1 banks. The SAM (serviceable addressable market) for Anti-Financial Crime is estimated to be $7.6 billion.
The segment is seeing strong traction as the number of financial crimes has been increasing. From 2021 to 2022, cryptocurrency scams have increased by 30% from $6.6 billion to $8.6 billion. While the value of attempted wire fraud within businesses increased by 119%. According to the company, $4 trillion of funds are laundered globally each year and companies are now spending billions trying to tackle this problem. This should act as a massive tailwind and continue to fuel growth.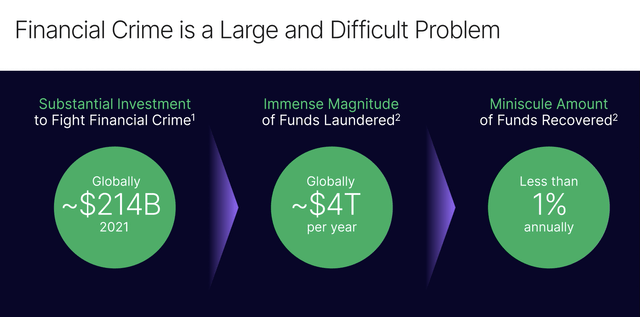 Indexes and listings should continue to benefit from the increasing popularity of technology companies. More tech companies are going public and Nasdaq is the exchange they want to be in. The company recorded a 79% win rate for US IPOs in the past two years. This includes blockbuster IPOs like Buffett-backed Snowflake (SNOW) and Korean Giant Coupang (CPNG).
Higher interest in technology companies also translates to higher AUM (asset under management). The company's current AUM is over $310 billion and the total net inflow for the past 24 months was $109 billion. Yet, the current penetration rate is still pretty low at only 17%. As tech mega-caps like Apple (AAPL) and Microsoft (MSFT) continue to prosper while new technologies emerge, I believe Nasdaq will benefit from strong tailwinds.
The company is now also trying to transition more of its products from a license-based model to a SaaS (subscription as a service) based model. SaaS revenue has been growing quickly with a CAGR (compounded annual growth rate) of 22% from 2016 to 2022. In 2016, SaaS revenue only accounted for 21% of ARR (annual recurring revenue) and the number has grown to 35% last year. Management expects the number to be over 50% by 2027 which should further improve margins, retention rates, and revenue visibility.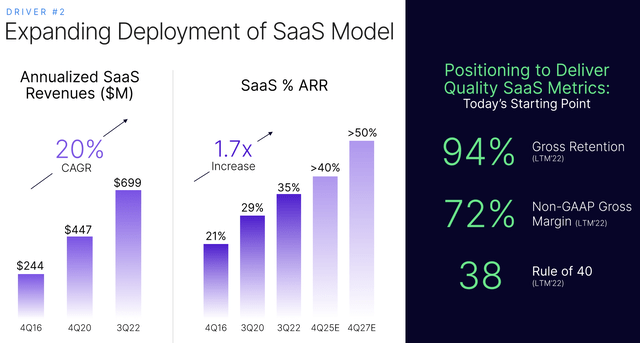 Financials and Valuation
Nasdaq reported its Q4 earnings last week and the results are underwhelming as the bottom line disappoints.
The company reported revenue of $1.58 billion, up 7.5% YoY (year over year) compared to $1.47 billion. Market Platforms revenue was $1.08 billion, up 10.7% from $975 million. Revenue from Anti-Financial Crime was $82 million, up 20.6% from $68 million. While Capital Access Platforms revenue was $420 million, flat YoY. The underperformance in this segment was due to weakness in Index revenue as the overall market remains volatile. ARR for the quarter was $2 billion, up 8% YoY. The growth is largely driven by SaaS revenue, which increased 13% YoY and now accounts for 36% of ARR.
Adena Friedman, CEO, on Index revenue:
In our Index business, we saw revenue decrease by 11% versus the prior year period, primarily due to lower average AUM and exchange-traded products linked to Nasdaq indices, partially offset by higher revenues related to futures trading linked to the NASDAQ 100 Index.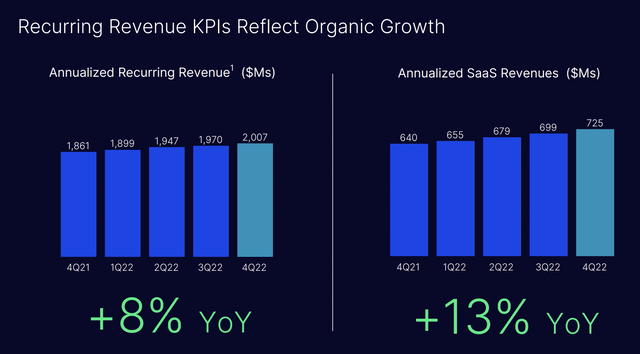 Top-line growth was fine and I'm glad to see SaaS revenue continue to grow at double digits but the bottom line is weak with both costs and expenses out of line. Gross profit was $906 million compared to $885 million, up only 2% YoY as clearance and exchange-related costs increased significantly, up 236% to $188 million. This resulted in the gross margin dropping from 60.2% to 57.3%. Operating expenses also increased by 3% mainly due to restructuring charges and strategic initiatives, which resulted in operating income staying flat at $349 million. Non-GAAP EPS was $0.64 which was also flat compared to the prior year.
After the run from June last year, the company's current valuation seems elevated. It is now trading at a PE ratio of 26.85 which is at the high end of its 5-year historical average, as you can see from the first chart below. It is also more expensive than other exchanges such as CME Group (CME) and Intercontinental Exchange (ICE) with a premium of 12.6%, as shown in the second chart below. Factoring in the single digits growth rate and flat EPS in the latest quarter I do not think there is much upside potential left.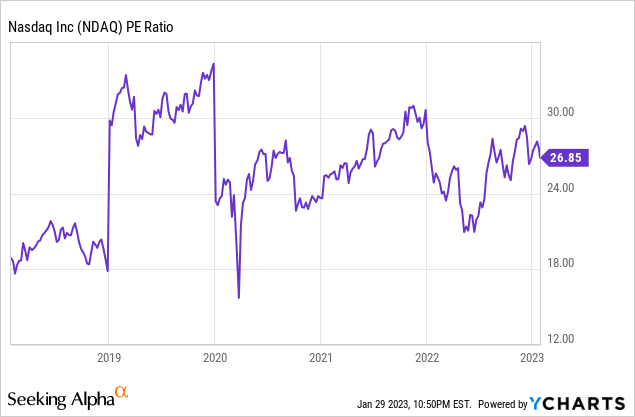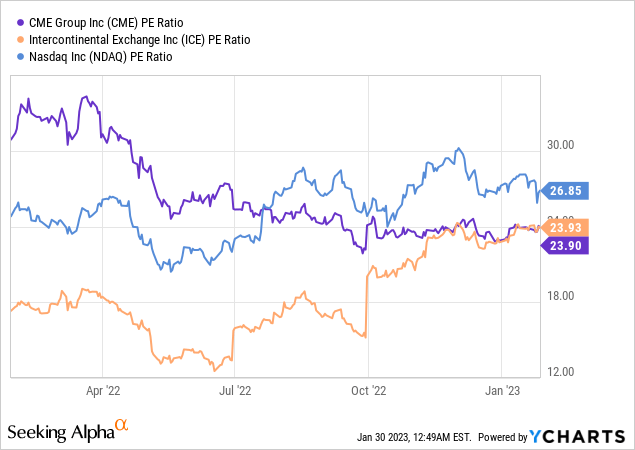 Conclusion
There is no doubt that Nasdaq is a great company. It owns one of the most important exchanges and indexes in the world with little competition due to the strict regulatory environment. The segment should continue to benefit from the increasing popularity and importance of technology companies. Anti-Financial Crime is another emerging segment with huge growth potential as the number of scams and money laundering keeps increasing. The ongoing shift to SaaS should also improve profitability moving forward. However, its latest financial results are underwhelming and the current valuation is also elevated compared to peers and its historical averages. I think there is limited upside potential from current levels therefore I rate the company as a hold.