Novavax: The Vaccine Battle Continues With Gavi (NASDAQ:NVAX)
The NVAX Investment Thesis Remains Shaky
Novavax, Inc (NASDAQ:NVAX) has been in hot water recently, due to the announcement of an agreement of termination with Gavi for COVAX, a Global Covid-19 Vaccine Facility, in November of 2022. Based on the original agreement, the latter would have been entitled to terminate the Advance Purchase Agreement [APA], if the purchase condition was not satisfied by December 31, 2021 and all doses were not delivered by December 31, 2022.
The center of this dispute is naturally attributed to the $700M pre-payment received by NVAX through two tranches in 2021 upon contract and 2022 upon the emergency use listing on World Health Organization. On one hand, the former alleged that the payments are non-refundable, with the termination not subject to any penalties.
However, Gavi countered that NVAX breached the agreement by not providing COVAX with vaccines from the contractually specified locations, based on a report from Reuters. This recent development is odd indeed, since all parties had previously acknowledged NVAX's partnership with Serum Institute of India [SII] for the production of Covovax by May 2021, as elaborated here:
Gavi acknowledges that, consistent with equitable access principles and Novavax's obligations under its agreement with CEPI, Novavax licensed its proprietary technology to SII with no traditional upfront or milestone benefit to Novavax (but with Novavax sharing in some of the revenue made by SII from Covovax Vaccine sales) and further that SII is well-suited to provide primary sale and distribution of the Covovax Vaccine into LICs, LMICs and UMICs, including through the COVAX Facility. (Gavi Alliance)
Based on the data from the Ministry of External Affairs in India (last updated on January 2, 2023), NVAX had shipped 161.32M doses of SII-made Covovax/ Nuvaxovid to multiple territories between March 2, 2021 and December 14, 2022. These include 6.98M to Canada, 9.01M to Indonesia, 24.7M to Australia, 112.92M to the Netherlands (distributed with the EU), 1M to New Zealand, 6.48M to the USA, and 0.2M to Thailand. On top of that, SII similarly offered the Covovax vaccine to infection-stricken China in mid-January 2023.
While it is unknown how much inventory SII has for Covovax, the world's largest vaccine maker by volume iterated its monthly production capacity of 100M doses in December 2022. Notably, NVAX also recorded $82.43M worth of inventory in the latest quarter. These suggest their ability to more than fulfill Gavi's original orders indeed.
Then again, with the supposed vaccine supply glut, it is uncertain whether there may be any demand to meet the 350M doses previously placed in May 2021. Moderna (NASDAQ:MRNA) had discarded 30M doses, with Reuters similarly reporting a -32.7% reduction in domestic vaccination for Pfizer's (NYSE:PFE) booster shots to 14.8M by October 2022, compared to 2021 levels of over 22M.
Furthermore, the US government previously reported Covid-19 vaccine wastage of up to 82.1M doses by mid-May 2022, with South Korea similarly dumping up to 10M doses. South Africa also reported large volumes of vaccine stocks, with South African pharmaceutical company, Aspen Pharmacare, reporting a near-idle Covid-19 production line by September 2022.
In the meantime, Gavi is reportedly discussing the prospects of shutting down the COVAX facility, attributed to waning Covid-19 vaccine demand globally. Many recipient countries have been returning Covid-19 vaccine shipments in favor of malaria shots, despite the 1.7B vaccines delivered thus far. Dr. Seth Berkley, the chief executive of Gavi, similarly suggested a derating of the Covid-19 pandemic:
The current proposal is that we integrate the Covax work into the core work of Gavi – not closing it down but integrating it. Because the belief is that, by the end of 2023, it shouldn't be seen as an emergency program anymore. (The New York Times)
In addition, a group of independent scientists has concluded by December 2022, that NVAX's Covovax underperformed against the mRNA-based vaccines from MRNA and PFE. The infection rate was determined to be higher for NVAX recipients at 53% for primary shots and 58% for boosters, against PFE's 49%/45% and MRNA's 50%/48% at the same time.
These factors do not bode well for NVAX indeed, as it is uncertain how the legal battle with Gavi may develop moving forward, with $750M at stake. However, we reckon the negativity attributed to the case may impact the former's valuations and stock prices in the near term, significantly worsened by the uncertain macroeconomic outlook through 2023. Stewart Glickman, CFRA analyst, said:
We think a legal battle will ensue and that this will ultimately get determined by the lawyers. (Reuters)
So, Is NVAX Stock A Buy, Sell, or Hold?
NVAX 1Y Trading Level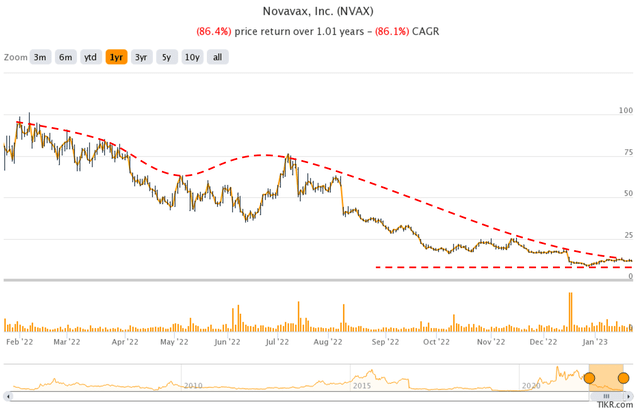 At the time of writing, NVAX has already plunged by -85.47% over the past year, with the stock moderately bouncing off December lows. It remains to be seen how the new management will turn things around, despite the CEO's previous success of bringing Harmony Biosciences (NASDAQ:HRMY) through an IPO in August 2020 and the notable 41.08% stock return since then.
It will be great to see NVAX potentially bring its NanoFlu and combined NanoFlu-Covid19 vaccine through the US FDA approval process, which may help temper some of the top-line headwinds thus far. For now, these have been in Phase 3 clinical trials since March 2020 and Phase 2 trials since December 2022, respectively, suggesting notable delays indeed.
NVAX's $324.5M of debt due by February 2023 and $1.28B of cash/equivalents by the latest quarter do not instill confidence, since the previous management also had to raise capital through debt leveraging and stock sales. This occurred recently in December 2022 for $250M and June 2020 for $200M, despite the $700M pre-payment received from Gavi and $1.6B Wrap Speed Funding from the US government.
Combined with the delayed US FDA approval and slower commercialization, it is not hard to see why Mr. Market has been bearish on the NVAX stock indeed. Therefore, we prefer to rate the stock as a Hold for now, due to the potential volatility ahead.