SDOG ETF: Best Friends A Dividend Investor Can Have
By Rob Isbitts
ALPS Sector Dividend Dogs ETF (NYSEARCA:SDOG) reminds me of that old TV commercial featuring an iconic character known as the "most interesting man in the world." Because I am not always looking for dividend yield. But when I am, I prefer to look at SDOG…among several others. I have been following this ETF for most of its 10-year tenure. During that time, I've owned it several times. And, while I don't own it currently, it is always on my radar, alongside several other dividend ETFs I am writing up in the coming days at Seeking Alpha.
I rate SDOG a Hold, which is a reflection of the respect I have gained for how this innovative ETF goes about its business. It eschews the standard market-capitalization weighting technique that many ETFs use. Importantly, it limits its holdings to 50 stocks. That appeals to me because it doesn't take me hours to analyze the holdings, as would be the case if it owned hundreds of stocks. And, it has delivered in a variety of environments. With a yield in the mid-3% range, it is not quite as cheap as I'd like. But it certainly is a fund I want to have on my watchlist.
Strategy
SDOG is built to track the S-Network® Sector Dividend Dogs Index. I have some business history with that now-merged company, as I developed my own dividend index with S-Network several years ago, along with my then-19-year-old son. SDOG is one of the ETFs that put that firm on the map, and I think that has a lot to do with its structure. It simply takes the S&P 500 stocks, breaks them into sectors, and kicks out REITs, which leaves 10 sectors to invest in. SDOG owns the top 5 highest yielders in each of those 10 sectors.
ETF Grades
Offense/Defense: Offense

Segment: Thematic

Sub-Segment: Dividend Yield

Risk (vs. S&P 500): Average
Technical Ratings
Short-Term (next 3 months):C

Long-Term (next 12 months):C
Rating scale: A = Excellent, B = Good, C = Fair, D = Weak, F = Poor
For a detailed description of MII's proprietary technical rating system, see disclosures at bottom of this report.
Holding Analysis
The resulting portfolio of 50 stocks, each with a starting weight of about 2%, is equally-weighted by sector (excluding REITs). As the ETF reconstitutes (i.e., makes changes to its portfolio) only once a year, as stocks outperform the rest of the portfolio, they will become a higher portfolio weighting. Likewise, lagging stocks will see their weightings fall to below 2%. This is essentially a zero-sum game. The manager rebalances the 50 holdings quarterly, so as to avoid some stocks getting very overweighted or underweighted.
Strengths
As the website for Alps, the ETF manager states, SDOG is "A simple strategy for a complex market." For dividend investors, that should be a nice relief. Dividend investing can be complex, or oversimplified. SDOG is neither. It is what I'd call "simple but elegant," based on the strict method of sub-dividing the S&P 500 into sectors, limiting the holdings, and equal-weighting those holdings.
As the ETF name implies, SDOG is really a more sophisticated version of the Dogs of the Dow approach, which identifies the 10 largest yielders out of the 30 stocks in the Dow Jones Industrial Average. Just substitute 5 for 10, 500 S&P stocks for the 30 Dow stocks, and divide those stocks into 10 sectors, and you get SDOG. This should provide some motivation and a level of comfort for investors who like the "Dogs" approach, but wondered if there is a version that goes beyond the small number of choices (30) in the Dow. SDOG is the answer to that question.
Weaknesses
As with any ETF, SDOG has some warts that may deter some investors. It excludes REITs. And, since that sector is traditionally one of the highest yielders, SDOG's overall yield is probably less than it would be if those real estate stocks were included.
In addition, the annual reconstitution makes this ETF a potential victim of rapidly-changing market conditions. The top-yielding stocks list within the S&P 500 likely shifts considerably as winners and losers occur during each trading year. SDOG can't go and "bottom-fish" until the end of November, when the annual reconstitution event occurs. The flip side of that is SDOG may sidestep the proverbial "falling knife" syndrome, where a stock's price crashes, the yield spikes, and it puts the stock in the top 5 yielders in its sector. That could be a value play, or it could be the start of a major deterioration of the stock price.
Opportunities
The equity market is, to use technical term, "bananas" right now. That makes it more difficult to evaluate any investment beyond "it's going up or it's going down." But if we look through the chaos, and focus on structure, SDOG offers a strong foundation with clear, simple parameters. Furthermore, it has a portfolio that doesn't stray from S&P 500 stocks and is less prone to the risk of any one sector. That all adds up to a solid dividend yield-oriented ETF.
As the chart below shows, SDOG consistently out-yields the S&P 500, and typically by a spread of 1.5%-2.0%. That 3.5% yield today is below T-Bills, but this is not a T-Bill ETF. It is, however, an efficient, transparent way to yield a lot more from an equity allocation. Thus, income-oriented investors who have been flying into short-term bond ETFs may consider SDOG as a complementary piece. Sort of like some people are about their dogs.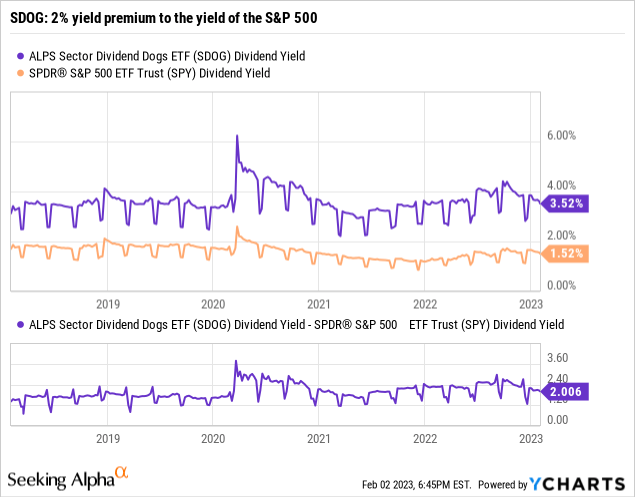 The current portfolio trades at only 10.5x forward earnings, and at only 0.86x sales. So there's plenty of value cushion here, if we can trust forward guidance from Wall Street. That adds to the appeal for those who thrive on value/contrarian investing, as opposed to "yield-reachers" who will pay any price to get more yield.
Threats
To be clear, this SDOG can catch fleas. It is not immune to bear markets. No dividend ETF is. When the bear comes, eventually it comes for every sector and every theme. SDOG has a 44% drawdown in its history, so don't confuse this with short-term US Treasuries. Also, while SDOG is liquid, and has a $1.3 Billion asset base, it has the advantage or disadvantage (depending on how one views it) of trading less than $4mm of volume on an average day. For most investors, this is irrelevant. But speaking as a former professional advisor and asset allocator, if you are handing, say, a 9-figure asset base, SDOG can trade a bit thin.
Conclusions
ETF Quality Opinion
If you have read this far, you should know that I'm going to endorse SDOG as a "must-have" ETF for your shortlist. It does dividend investing in a way that just makes sense to me. As an added benefit for those who like to own individual stocks, one peak at the current holdings, and you get a sense of what the higher-yielding stocks are, by sector, within the S&P 500. So, SDOG also doubles as a dividend screener, albeit with that list changing once the annual December reconstitution trades occur in the fund.
ETF Investment Opinion
SDOG makes my shortlist, but in a market that causes even high-yielding S&P 500 component stocks to flop around like they are cryptocurrencies, I have to curb (dog pun intended!) my enthusiasm on this SDOG. It is off to a great start to 2023, along with the stock market in general. But it is also at the price level that it peaked at 3 times over the past 2 years. So, a solid Hold is where I land on SDOG for now.
Modern Income Investor's proprietary technical rating system was created by the firm's founder, Rob Isbitts, a chartist for more than 40 years. The ratings emphasize risk-management, and the belief that while any investment can appreciate in price at any time, each investment carries a different level of potential for major loss. The balance of reward and risk is calculated each night for thousands of securities, using a formula that analyzes price trend, strength of that trend and key price levels. It analyzes data over multiple time frames to produce a short-term rating (looking 3 months out) and a long-term rating (looking 12 months out).