Smurfit Kappa Sees Margin Expansion On Energy Deflation (OTCMKTS:SMFKY)
Smurfit Kappa (OTCPK:SMFTF)(OTCPK:SMFKY) makes paper and packaging products, mainly corrugated packaging, but also some other categories like bag-in-box. End-markets are pretty general, and with a generally weak economic growth environment in SK's geographical markets, we may be seeing peaking prices as capacity comes back from being on downtime. SK is vertically integrated, and its economics are good. Moreover, the multiple gives some margin of safety. However, the economy ends up being a concern, and the supply side is just not looking to supporting right now.
Trading Update Q3
Let's focus on what the latest news from the company is: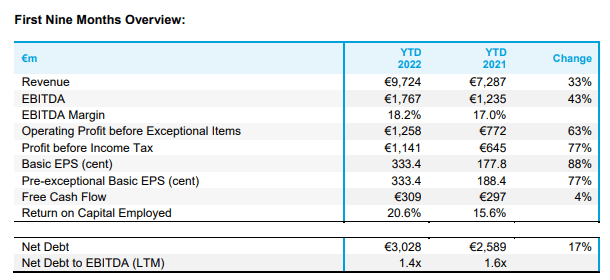 EBITDA is up substantially, as are EBITDA margins. This is thanks to continued increases in prices to customers while there was a receding in prices for logistics and for energy. Energy, in particular, was a massive headwind up to the half-year and has come down to the lower-mid double-digits as of this latest quarter.
Volumes to customers remained relatively flat, indicating that for the moment things seem to be holding on in their Europe and Americas markets, but apparently there was no sign of pronounced uptick leading into the holiday season as there typically is.
They continue with some of their larger investments, such as new facilities in Cali, and the focus around their assets and their cost control measures is often on reducing the carbon footprint and looking for IRR through tax credits. The economics of increasing the green profile remain, and otherwise the company continues to gain scale and scope benefits as it scales organically and inorganically. Logistics chains have become shorter over the years, they are vertically integrated and avoiding pulp inflation, and generally they are one of the lower cost producers on the market thanks also to corrugated packaging lending itself to being recycled, and competition for recycled materials being much lower now since before the pandemic with China. 75% of the inputs are from recycled sources.
Bottom Line
There are some issues though. The first is that high energy prices affected not so much their capacity because they have an operating model that is especially flexible and optimised, but those of some competitors who took the energy speculation as a moment to instead close down facilities temporarily for periodic maintenance. Despite the lessened capacity there was still some stock build in the industry, although it remained limited thanks to continued demand in their markets. However, with energy prices coming down, capacity will come back online to try capitalise on the prices which remain high in end-markets despite some signs of faltering. General inflation in their European focused markets is an issue, and we think that supply/demand dynamics are more likely than not going to start putting pressure on prices that can no longer be justified by very high input costs. Costs may also flex down, including recycled inputs and chemicals used in the treatment of papers, but demand is a concern.
Spending on the home tends to be an important market for corrugated packaging, and that has seen an all-time peak in 2020 and 2021 as people spent more time at home. Now is definitely time for a downcycle here. Still, the 11x multiple looks attractive and offers almost a 10% earnings yield, but with S/D dynamics being questionable we don't see the direction as being particularly good. At least the inflation clauses in contracts protects them from new energy inflation that could be driven by a Chinese reopening.
Editor's Note: This article discusses one or more securities that do not trade on a major U.S. exchange. Please be aware of the risks associated with these stocks.
If you thought our angle on this company was interesting, you may want to check out our idea room, The Value Lab. We focus on long-only value ideas of interest to us, where we try to find international mispriced equities and target a portfolio yield of about 4%. We've done really well for ourselves over the last 5 years, but it took getting our hands dirty in international markets. If you are a value-investor, serious about protecting your wealth, our gang could help broaden your horizons and give some inspiration. Give our no-strings-attached free trial a try to see if it's for you.