Sun Country Airlines Holding: More Upside Than I Expected (NASDAQ:SNCY)
Thesis
This is an update to my first post. I believe Sun Country Airlines Holdings (NASDAQ:SNCY) has more upside than I initially expected. Overall, SNCY's 4Q22 report was pretty solid, and the company's profit outlook for 1Q23 was more optimistic than expected. These also explain the share price reaction (up 17% since report).
Earnings takeaway
The fact that management is so bullish on 1Q23 gives me hope that FY23 will be a good year; management also anticipates a return to pre-covid margins in FY23. A major driving force behind this robust recovery has been a surge in leisure demand within the scheduled service. Moreover, it's encouraging that management is increasing charter service under long-term contracts, which brings in lucrative contractual revenue with a high profit margin. As the new pilot contract that was concluded in late 2021, SNCY's cost structure is also relatively less precarious than it was before. With all these stringed together, I expect strong margin expansion for SNCY.
Earnings update
Block hour
SNCY has announced an increase in block hour guidance of 3.5% to 6.5% 1Q23. They are shooting for an annual block hour increase of about 10%. Subsequently, management expects to see double-digit growth rates in production by June, which I think will be good given Summer is a peak period.
Cost
Regarding costs, SNCY did not offer any specific cost guidance; however, management did indicate that they anticipate unit costs to trend down majorly in 2H23 compared to 1Q23 as they see more recovery in capacity, primarily through increased utilization. In addition, the company's new pilot contract, which was ratified at the end of 2021, has been fully incorporated into the cost structure, so management expects the CASM ex-fuel increase over last year to be significantly lower in 2022 than in 2021. Simply put, a decrease in expenses is anticipated, which will have a significant positive impact on the growth of profit margins.
Fleet
At the end of FY22, SNCY had 42 passenger planes and 12 cargo planes in its fleet. Two aircraft purchased in 2022 are expected to begin service in the first quarter of 2023, and another one or two planes will be added to the fleet this year. With this fleet strategy in place, I expect a significant decrease in CAPEX in FY23, followed by a recovery in CAPEX beginning in FY24, when SNCY is expected to resume adding 7 to 9 aircrafts per year. Getting more specific about fleet strategy, the company expects to have 20 aircraft in its contracted fleet by the end of FY23 and has optimized its network by allocating 25% of block hours to fixed fee contract flying.
Strategy
Here are the latest details on SNCY charters. Management has been focused on expanding this business, and by FY2023 they anticipate having 8 aircraft dedicated to program flying, which is what drove annual growth in 4Q22. 61% of charter block hours so far in 4Q22 can be attributed to program flying. I'm heartened to see that the composition is trending back toward the pre-covid mix of 51%/49% in terms of program versus ad hoc charter block hour contribution. Despite the fact that SNCY's primary focus is expanding its program flying, I foresee that, once pilot staffing stabilizes, the company will also actively seek out more lucrative ad hoc charter opportunities.
Guidance
For 1Q23, SNCY guided a revenue growth of 24% to 28%. Given that management has good insight into demand trends for the current quarter-roughly 80% of projected passenger revenue for the quarter has already been booked-I think it's safe to assume that this targeted growth rate is well within reach. Furthermore, management highlighted unprecedented demand in the Mexican, Caribbean, and Central American markets as further evidence that international demand is driving year-over-year expansion. Additionally, management anticipates April performance to mirror 1Q23 and a strong performance this summer.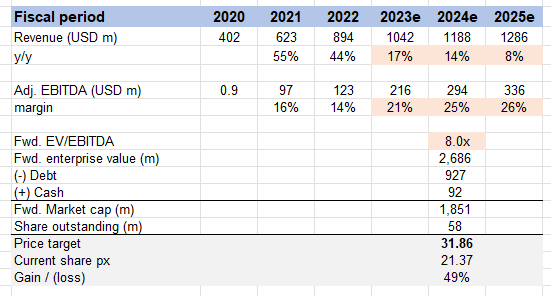 Valuation
Post this 4Q22 results, I am even more confident on the near to mid term outlook of SNCY – near-term growth locked in, margin expected to expand, market is happy with this narrative (share price reaction is an indicator). Based on my updated model, I see additional upside to SNCY from previous 21% to 49%. Price target increased from $28 to $32.
Conclusion
In conclusion, 4Q22 report showed solid results and SNCY optimistic profit outlook for 1Q23 has boosted my confidence. The surge in leisure demand, increase in charter services, favorable cost structure and pilot contract, and expanding fleet size all contribute to strong margin expansion for the company. I believe that SNCY has more upside potential than initially expected and have increased my price target from $28 to $32.