Ulta Beauty: Premium Company At A Good Price (NASDAQ:ULTA)
Investment Thesis
Ulta Beauty (NASDAQ:ULTA) showed strong resistance last year despite facing a volatile economy with rising rates and inflation. Its share price was up 13.8% for 2022, significantly outpacing the S&P 500 Index which declined by 19.4%. It has also been a long-term winner in the past decade with a shareholder return of over 400%. Despite now trading near a historical high, I believe the company will continue to outperform. The market for beauty is extremely huge and continues to grow. Sales channels remain very fragmented and consolidation should provide tailwinds for the company. Digital sales are seeing solid traction as e-commerce becomes more and more popular after the pandemic. Wellness is also a lesser-known opportunity with strong potential that could turn out to be significant in the coming years. Its current valuation also appears to be attractive as multiples are still below its historical average. Therefore I rate Ulta Beauty as a buy at the current price.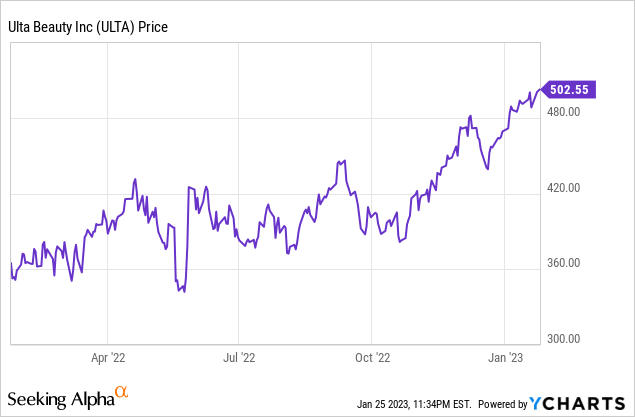 Market Opportunity
For people that are unfamiliar with the company, Ulta Beauty is the largest beauty retailer in the US founded back in 1990. It sells a variety of products from 600+ brands including skin care, hair care, cosmetics, and more, with an ambition to become the one-stop shop for everything beauty. It has over 1,300 stores across the states with 39 million loyalty members.
Ulta Beauty has a huge TAM (total addressable market). According to Statista, the global beauty & personal care market is currently $571 billion and is estimated to grow to $663 billion in 2027, representing a CAGR (compounded annual growth rate) of 3.8%. According to Ulta Beauty, the US market alone has a TAM of $91 billion and is expected to grow at a 2%-4% CAGR. This is driven by a higher awareness of self-appearance and body care, and increased influence from social media platforms like TikTok.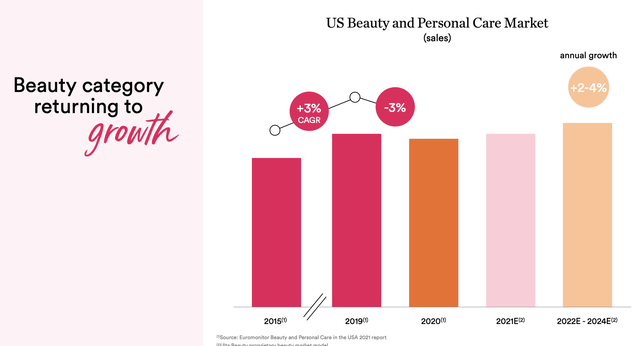 Growth Opportunities
The adoption of e-commerce is a huge growth driver for the company. Since the pandemic, more and more people are used to shopping online as it is much more convenient, especially for return customers that already know what they need. According to Statista, only 18.4% of total beauty products were sold online in 2019. The number has increased to 25.4% in 2022 and is forecasted to hit 33% in 2025. While Ulta Beauty does not disclose its e-commerce numbers, it did mention in its investor presentation that digital sales grew by 35% CAGR from 2017 to 2021. The increasing penetration rate for e-commerce should substantially benefit the company's digital sales.
The current sales channels are extremely also fragmented, which include grocery stores, e-commerce, DTC (direct to consumer), drug stores, department stores, specialty stores, etc. None of these channels has a dominant market share which presents a huge opportunity for Ulta Beauty. to become the go-to one-stop shop.
The company has different competitive advantages against other channels. Firstly, they offer both in-store and online shopping which vastly increases customer engagement and convenience. Compared to generic stores (drug stores/department stores), their staff has much deeper knowledge about different products which enhances customer experience. While compared to specialized boutiques and DTC brands, it has a lot more stores in multiple locations with much broader selections.
It also offers in-store services such as haircuts, hair coloring, wax services, and ear piercing, which other channels do not have. The company is also expanding its reach through its partnership with Target (TGT). It is now setting up its stores inside over 350 Target which should further increase brand awareness. I believe the market will start to consolidate which will be a strong tailwind for Ulta Beauty.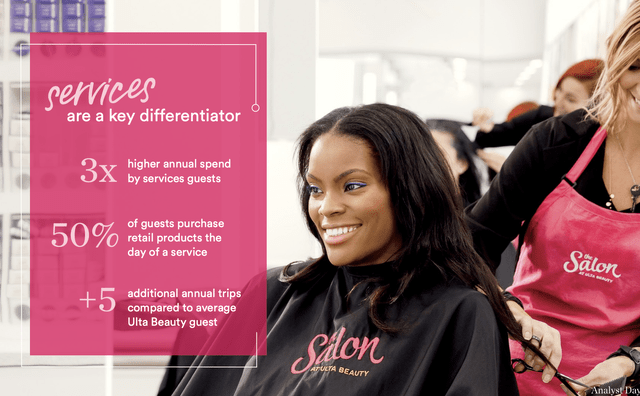 Wellness is also an emerging opportunity for Ulta Beauty. This includes products such as supplements, sleep-related products, spa products, etc. Wellness is getting increasingly popular with people now emphasizing more on self-care, sleep, and mental health. According to McKinsey, wellness is a whopping $450 billion market in the US growing at a CAGR of 5%+. The company is slowly scaling its offerings in wellness and I believe this could eventually become a huge growth driver in the future.
Dave Kimbell, CEO, on Wellness:
Finally, we continue to increase our presence in wellness. During the quarter, we further enhanced our assortment to reflect our guest evolving needs. While wellness represents a small part of our overall business today, we believe it is a significant longer-term growth opportunity given the incrementality of the purchase and the strong emotional connection consumers have with self-care.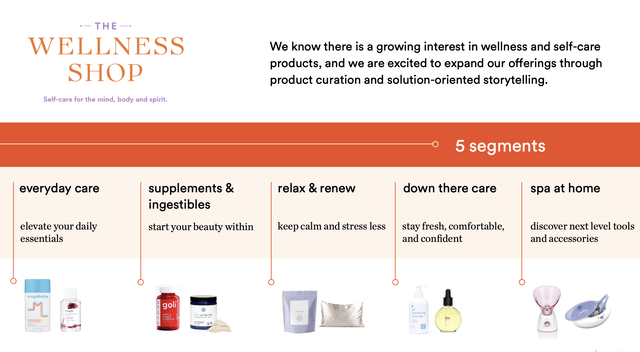 Valuation
Despite its share price trading near an all-time high, the current valuation for Ulta Beauty still looks compelling. The company currently has a PE ratio of 22.1x. From the first chart below, you can see that this is near the low end of its historical valuation. Compared to its 5-year average PE ratio of 33x, the current price represents a discount of around 33%. There are no other beauty retailers in the market therefore it is hard to make a direct comparison but when compared to other specialty stores, multiples are still low. From the second chart below, you can see that its PE ratio is below retail stores like Five Below (FIVE) and Tractor Supply (TSCO). It is also worth noting that Ulta Beauty is growing revenue at a quicker pace with double-digit increases while the other two companies above are growing at just single digits. I believe it is possible to see its valuation go back to the 5-year average which should offer solid upside potential.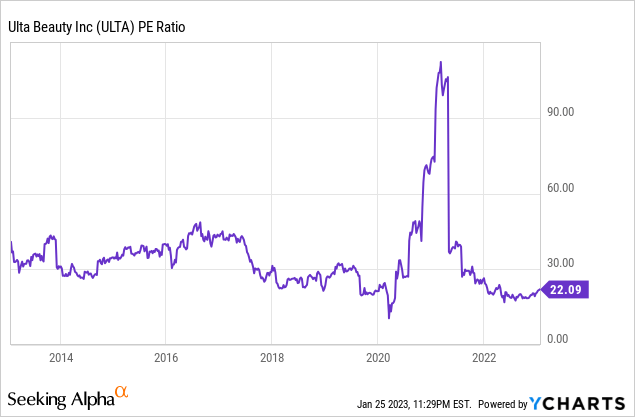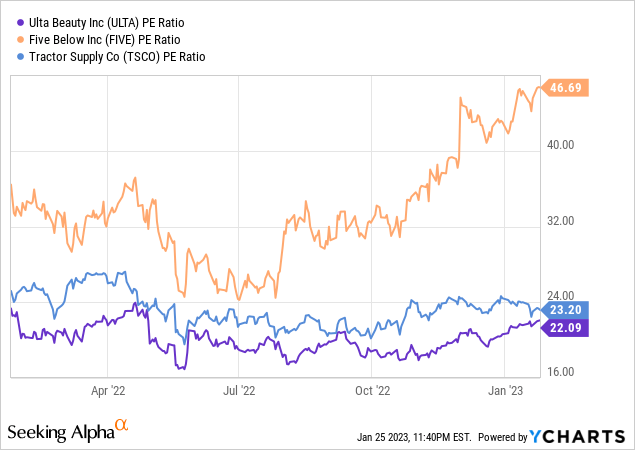 Conclusion
In conclusion, I still like Ulta Beauty at the current level and I believe it could continue its strong momentum this year. It operates in an extremely large and fragmented market that is expanding and due for consolidation. It has significant competitive advantages against other sales channels and could dominate the market and become the one-stop shop for beauty. The penetration rate for e-commerce is expected to grow which should provide tailwinds for digital sales. While wellness also presents a huge untapped opportunity for potential growth. Most importantly, the current valuation is still discounted compared to its historical multiples. Therefore I rate the company as a buy.