Winmark Is A Strong Buy (NASDAQ:WINA)
Editor's note: Seeking Alpha is proud to welcome Zachary Marx as a new contributor. It's easy to become a Seeking Alpha contributor and earn money for your best investment ideas. Active contributors also get free access to SA Premium. Click here to find out more »
Winmark (NASDAQ:WINA) is an extremely profitable franchising business. The company champions and guides entrepreneurs interested in resale franchises and then takes a royalty of their sales.
Winmark has the management team, capital-light business, and macro tailwinds to continue its growth into the future. Most importantly, management believes the business is clearly undervalued. Winmark has five brands of stores shown in the table below, as per its latest 10-Q.

These brands are focused in the "circular economy," in which people sell or donate their products to them and then Winmark's franchises resell them at a higher price. As a result, Winmark is well positioned in terms of some major themes that will drive investment returns. These include the items discussed below.
Macro
The U.S. economy is headed for a recession and, as a result, people are probably going to need to sell their excess stuff and shop for necessities at new places. The American consumer will likely be unable to shop at luxury retailers and will instead be forced to look for alternatives. As shown in the graph below from FRED, the American consumer is tapped out and the personal savings rate has hit an all-time low, while personal consumption expenditures remain high.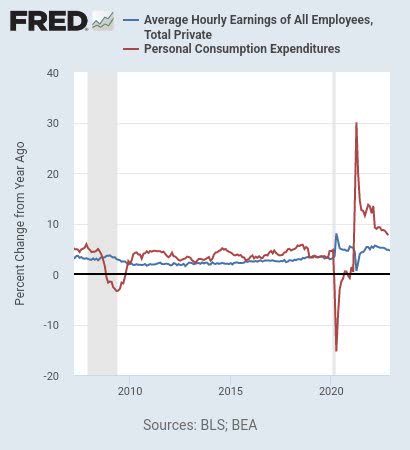 Supply chain constraints will also serve as a tailwind to this business. That's because many retailers are unable to source new product with shutdowns in China on the rise. As a result, consumers will be forced to look elsewhere.
American Cultural Trends
Several American cultural trends are able to support this business. Americans are increasingly downsizing houses or moving into smaller homes, which forces them to get rid of their stuff. According to Data Bridge Market Research, there is a new growing trend called "tiny homes," which refers to a single dwelling unit of less than 400 square feet. Growth in this industry is increasing as Americans are increasingly looking for more affordable options in terms of housing.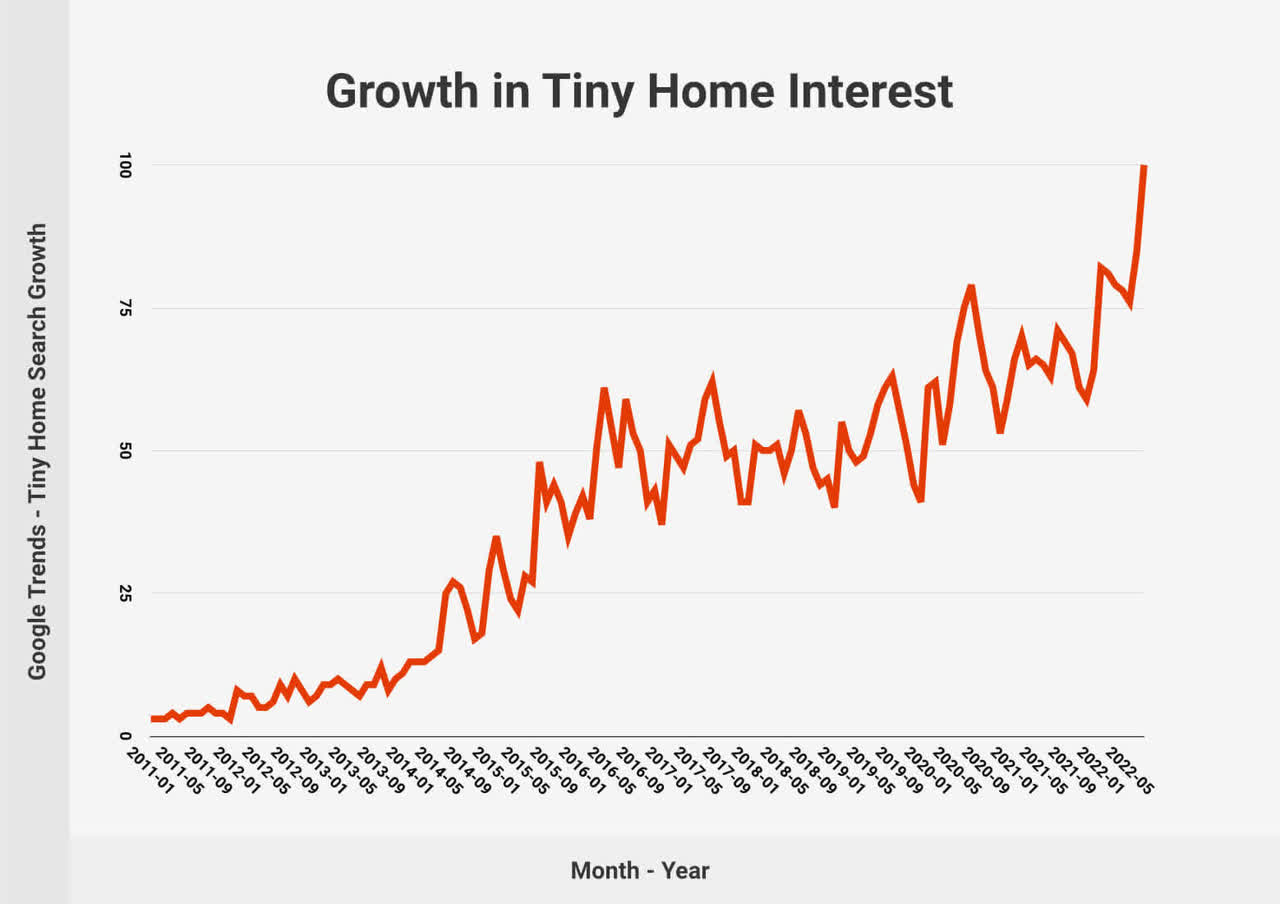 Additionally, the traditional 9-5 job is increasingly moving inside the home. Therefore, Americans are spending more and more time in their homes, leading people to want to declutter their home.
Both of these are great tailwinds for Winmark stores to get higher quality inventory, and a reason why I believe we will continue to see margins and revenue rise.
Operating Execution
The business of reselling has been extremely fragmented, but Winmark has been able to capitalize on providing some consolidation in the industry. As a result, their gross margins are approaching ~94%. ROIC is also increasing as management is moving out of less profitable businesses and is putting more focus on the franchising business.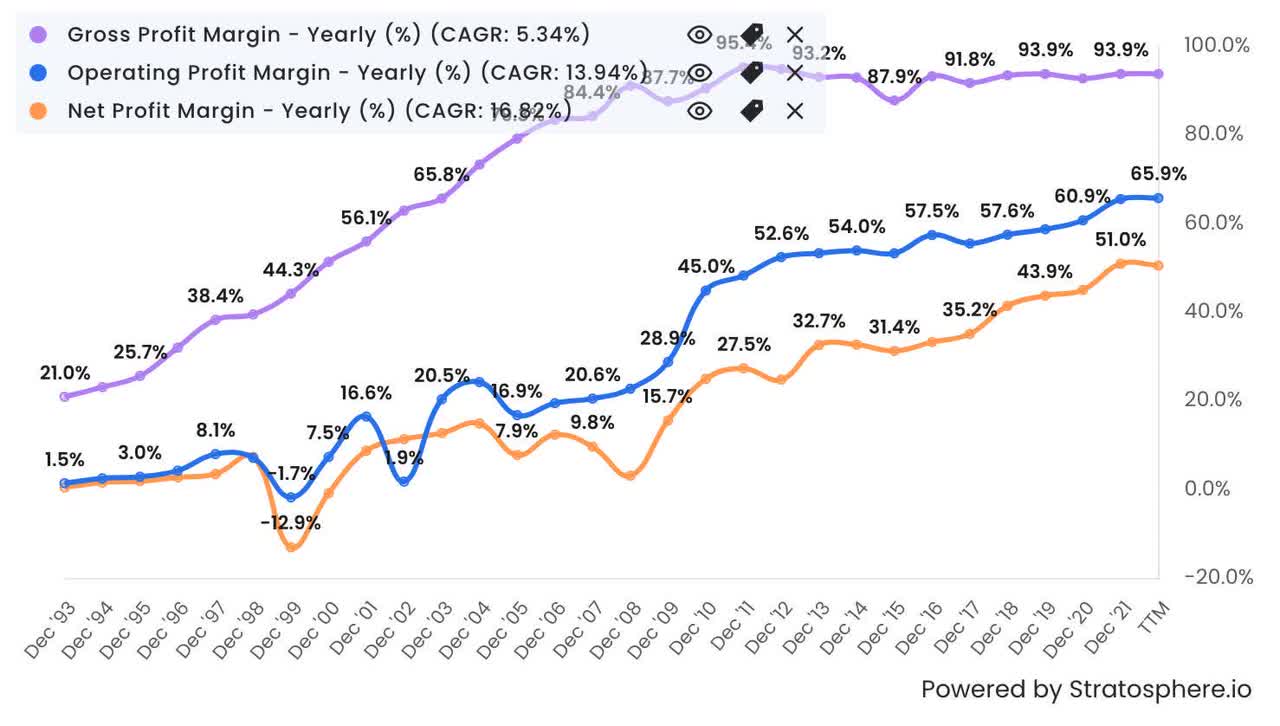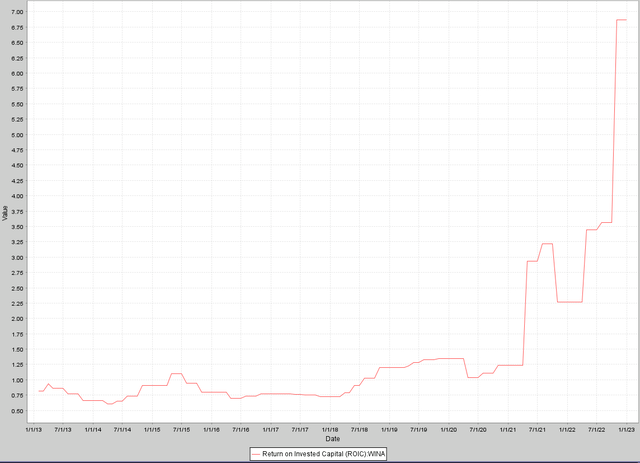 Lastly, the company was investing much of its FCF into a terrible leasing business, but it appears that management is in the process of shutting this process down to focus on the core business. As a result, FCF has been increasing substantially.

Shareholder Yield
All of the above has allowed the company to turn on the shareholder yield spigot. Winmark has been able to decrease shares by almost 10%, while substantially increasing the quarterly dividend from $0.45 to $0.70. The company has also continued paying special dividends. The firm seems committed to returning capital to share holders. Without this terrible leasing business, it should have the cash flow to continue doing so and to become a dividend aristocrat.
Additionally, management clearly believes the stock is significantly undervalued as it spent more on buybacks ($48M) than the company made in net income ($29M). I also expect management to continue to be shareholder-friendly as management owns ~20% of the stock and is buying more.

Winmark's TTM valuation has increased to around 23x. However, I expect earnings to increase because more consumers will begin to come to these stores for the reasons mentioned above. And note that the company expects to open an additional 46 franchises in the coming quarter.
Conclusion
Winmark has the macro tailwinds and business execution to become a compounder, as well as potentially a dividend aristocrat.